Prepare for Wildfires w/ Protectly's Respirator Kit | 3M 6000 Kit with P100 Filters, Made in the USA
From our sponsors: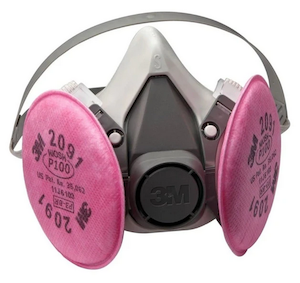 3M 6000 Respirator Kit with P100 Filters
More info: protectly.co
Good choice for those working/living in areas contaminated with wildfire smoke and ash. Protects against harmful air particles, dust, mists, fumes, lead, mold, asbestos, cadmium, arsenic, and MDA. Full kit assembly, ready to use! Add extra pair of filters to have on hand, just in case.
3M Reusable 6000 Series Respirator
Sizes: Small (6100), Medium (6200), Large (6300)
3M 2091 P100 NIOSH Filters (set of 2)
MADE IN USA
3M AEM ensures exceptional >99.97% filter efficiency that meets NIOSH P100 standards

Protection against many oil and non-oil based particulate contaminants

This respirator combination also provides effective protection for most types of welding

As a lead dust respirator, this mask provides HEPA level protection for your lungs
100% Authentic Guarantee
Assembly Includes: 3M 6000 Half Mask Respirator (1 each, choose size), 3M 2091 P100 (HEPA) Filter (1 pair) *Filters attach directly to the mask with 1/4 turn bayonet-style connector. Other 3M filters will also connect to this mask.
Mask Sizing: Consider your experience purchasing hats or glasses. If you typically purchase larger or smaller sizes based on the size and shape of your face, consider doing so when selecting the size of your mask. This product does not provide eye protection and not eligible for returns.