2022 H. P. Lovecraft Film Festival @ Hollywood Theatre | w/Guests Jeffrey Combs, Kelli Maroney, 60+ Short & Feature Films
From our sponsors: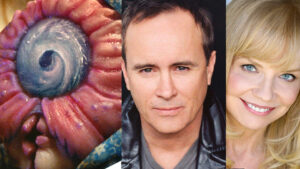 H. P. Lovecraft Film Festival
In Person October 7-9, 2022
Friday: Filmmaker Meet & Greet @ Lift Off Lounge 4-6 pm, Films from 7-11 pm
Saturday's films screen from 1-11pm with a dinner break
Sunday's films screen from 1-11pm with a dinner break
More In-Person info: bit.ly/hplff22tix
Streaming passes available at hplfilmfestival.eventive.org
Hollywood Theatre
4122 NE Sandy Blvd Portland, OR 97212
The 27th Annual H. P. Lovecraft Film Festival® of Cosmic Horror returns to all 3 screens of the Hollywood Theatre October 7-9th with Guest of Honor JEFFREY COMBS in attendance all weekend!
Highlights include special 35mm screenings including a double feature hosted by Jeffrey Combs of RE-ANIMATOR and BRIDE OF RE-ANIMATOR, and NIGHT OF THE COMET followed by a Q&A with special guest KELLI MARONEY (Chopping Mall). Plus the PNW premiere of SOMETHING IN THE DIRT by Benson & Moorhead (The Endless), the World Premiere of FREEZE with director Charlie Steeds, a live one-man stage performance of "The Rats in the Walls", and the return of the Secret Screening! The weekend includes Q&As with visiting filmmakers, literary guests Kenneth Hite, Sumiko Saulson, Adam Scott Glancy, Craig Laurance Gidney, Cody Goodfellow, and more!
This year's short films are an expansive lineup of literary adaptations of stories by Lovecraft, M. R. James, Robert W. Chambers, and Edgar Allan Poe, PLUS original Weird tales and Cosmic Horror from all over the world including Cuba, Germany, Italy, Mexico, Nigeria, Australia, Venezuela, United Kingdom, Canada, and the US.
For those that can't attend in person, the festival's streaming program will give fans across the globe a chance to get their fill of new Cosmic Horror films and Weird tales with a curated selection of 50+ independent short and feature films streaming on Eventive starting October 7th.
Each day features different short and feature films. Single Day and Full Festival passes for both the in-person and streaming events are available now.
NOTE: With vendors, guests, and people visiting from all over, this festival is more than just watching films. We are following the same basic COVID safety guidelines as events like Rose City Comic Con, and masks must be worn when not actively eating or drinking.