Portland Farmers Market Opens this Week in Kenton & Lents! | Market Schedule & Info
From our sponsors: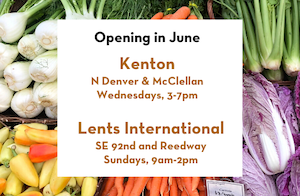 Portland Farmers Markets Opening
More info: portlandfarmersmarket.org
Kenton Farmers Market: Opens June 3rd, Wednesdays 3pm – 7pm
Lents International Farmers Market: Opens June 7th, Sundays 9am – 2pm
With summer just around the corner, more fresh, delicious local food is headed your way. Next week will mark the start of Kenton Farmers Market (Wednesdays, 3-7pm) and Lents International Farmers Market (Sundays, 9am-2pm). That's two more chances every week to stock up on essentials (and treats too!)
As summer produce reaches its peak season, we're going to need your help. Sending one member of your household to shop lets more people get access to the fresh, healthy food we all need. If you can send just one, there will be shorter lines, more space for social distancing and more support for the small farms that work so hard to feed us all. Thank you again!