Spring Makers Market @ Taborspace | 20 Local Vendors, Portland 2022 Easter & Mother's Day Gifts
From our sponsors: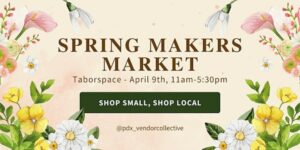 Spring Makers Market
April 9, 2022
11AM-5:30PM | Free | All Ages
More info: eventbrite.com
Taborspace
5441 Southeast Belmont Street
Portland, OR 97215
Hop into spring festivities while shopping from over 20 local vendors at the Spring Makers Market! Join us on Saturday, April 9th from 11am-5:30pm at Taborspace, a community space located in SE Portland (5441 SE Belmont St).
Located in the Dining Room, the market will host a variety of small businesses and artists. While everyone is welcome, stay safe and stay home if you're sick, mask optional. Free parking available on 54th, off Belmont st.
Vendors include:
Royal Clips
Crafty by Marikay
Niyyah Handcrafted
Teal Cicada Illustration
SisterProducts
evil twin
Paper Cut
Charcuterie By Bri
BerBerNails
Dancing Heron
Honeybee River Studio
Moonrise Crochet Co.
Killing Cute
Dos Punks
Do Better Press
Jewels by Jones
La Tienda Del Sol
Poetic Bruja Botanica
For the Love of Lucille