PDXWIT Presents: June Happy Hour: Intersectionality | hosted by PixelSpoke, Pride Month, Recruiter Roll Call
From our sponsors: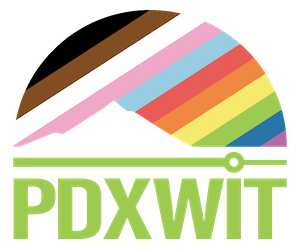 PDXWIT Presents: June Lunchtime Happy Hour
June 17, 2021
Noon | Free
More info: us02web.zoom.us
Join us during Pride Month for a special edition Virtual Happy (Lunch) Hour hosted by PixelSpoke.
Our emcee, Hazel Valdez, will help us explore intersectionality, a concept and term first explored by Kimberlé Crenshaw. Intersectionality acknowledges that while some populations share similar experiences of discrimination, harassment, sexism, inequality and oppression on the basis of their sex, race and gender, not all are equally impacted or have equal access to resources, power and privilege.
We will have lightning speakers exploring this theme. As always, we'll have our Recruiter Roll Call and Virtual Job Seekers Lounge.
And for those of you looking to connect on camera, we will come together face-to-face (or screen-to-screen) after the presentations for a little dose of community.
We will have ASL interpretation and live closed captioning throughout. Contact [email protected] if you have other accessibility needs.
Hope to see you there!