Oregon Zoo Goes Live! | Go Behind the Scenes Virtually w/ The Animal Care Staff, Bebeto The Porcupine & Turtle Hatchlings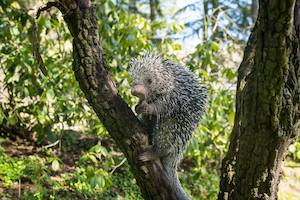 Go Live w/ Oregon Zoo!
May 7 & 8, 2020
10:30-11a
Free | More info: Facebook
We're bringing the Oregon Zoo to you on Facebook Live!
Go behind the scenes to meet animals and connect with our animal-care staff. After each live video, find at-home activities to learn more about animals and how to help them at: oregonzoo.org/home-zoo.
The activities, developed by our award-winning education team, are aimed at children ages K–5 (but we invite animal lovers of all ages to join in the fun!).
On Thursday you can meet the Bebeto the prehensile-tailed porcupine and connect with our animal-care staff in this live video! Tune in on Friday, when we visit the conservation lab to meet western pond turtle hatchlings and find out how we're helping this species survive!
The zoo relies on public support to operate, even when we're closed. The biggest way to make a difference right now is to become a member, renew your membership or make a donation. Thank you!