OMSI Reopening This Weekend! | BODY WORLDS & The Cycle of Life, Submarine Tours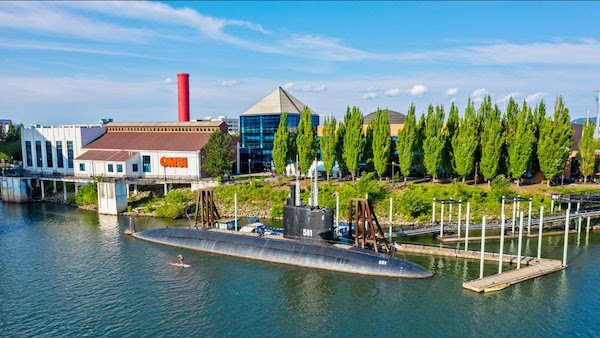 OMSI is reopening on a limited basis starting Saturday, June 20, 2020. They're excited to welcome you back to the museum to experience BODY WORLDS & The Cycle of Life and tour the USS Blueback Submarine.
————–
Related Portland Events & Info
————–
OMSI Reopening
Opens June 20, 2020
10A-7PM
More info: omsi.edu
OMSI
1945 SE Water Ave, Portland, OR 97214
OMSI is reopening on Saturday, June 20, and we can't wait to see you again! Starting Saturday, you can experience BODY WORLDS & the Cycle of Life and tour the USS Blueback Submarine—other exhibit halls, attractions, and hands-on exhibits remain closed for now.
We've made some changes to meet state guidelines and help keep the entire community healthy, such as limiting capacity, and requiring physical distancing and face coverings. Here's what you can expect upon returning to the museum:
What's open
We're limiting BODY WORLDS to 25% of capacity and the USS Blueback to 20% of capacity. Timed ticketing is the best way to manage guest flow and help keep you safe, so we strongly recommend purchasing admission tickets and parking online prior to your visit.
Wear a Face Covering
Staff and guests age 13 or older are required to wear either a cloth, paper, or disposable face covering that covers the nose and the mouth. Forget your mask? We've got you covered—we'll provide a disposable face covering.
Maintain Distance
Signage and staff will encourage museum guests to maintain physical distancing of at least six feet between individual parties. Guests can visit in parties of up to ten people, who can stand in line or go through the exhibit together.
Keeping it Clean
We've installed additional hand sanitizer dispensers in key contact areas, and frequently-touched surfaces (e.g., door handles, sink handles, handrails) will be diligently cleaned and sanitized multiple times daily.
OMSI's Summer Day Camps are Open
We're prioritizing the health and safety of campers in our care, and have tailored OMSI Camps & Classes to meet current summer camp state guidelines. Register today for socially distanced, small group day camps in chemistry, coding, animation, astronomy, LEGO® architecture, and more for grades K-8.
Become an OMSI member to save 20% off all Camps & Classes. Limited spots available.