Night Flight Aerial Presents Attic of Wondrous Things @ Portland Playhouse | Cabaret Style Revue Featuring Aerialists, Hand-balancers, Contortionists & More!
From our sponsors: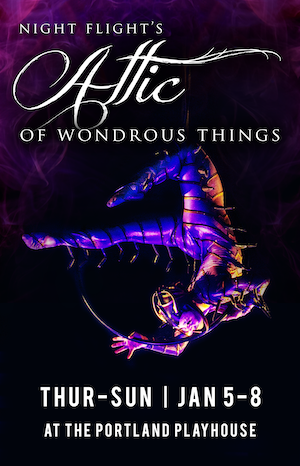 Night Flight's ATTIC OF WONDROUS THINGS
January 5-8, 2023
$50-$65 | All Ages & 18+
Tickets: etix.com
More info: nightflightaerial.com
The Portland Playhouse
602 NE Prescott St, Portland, OR 97211
It's been 8 thousand years since Handsome Hank, demon of the underworld, third of his name, last visited his grandmother's attic. But the time has come to open the attic-door, dust off the cobwebs and open the trunks and boxes filled with knickknacks, tchotchkes, and memories.
Join Night Flight Aerial and Circus Arts in their Attic of Wondrous Things; a cabaret style revue featuring aerialists, hand-balancers, contortionists and more!
There will be two shows with two unique casts:
Our All Ages/Family Friendly LOST TREASURES show is a fantastical and magical journey: a glittering moon shines down upon watery siren and a contorting rag doll. Later in the night, things get darker and sexier with our DANGEROUS DELIGHTS 18+ show. Demons spin in the air high above, while a hair-hanging banshee screams of impending doom.
LOST TREASURES – (FAMILY FRIENDLY/ALL AGES SHOW)
Sat Jan 7th 2:30pm
Sun Jan 8th 2:30pm – ASL Interpreter
DANGEROUS DELIGHTS – (18+ SHOW)
Thur Jan 5th 7pm
Fri Jan 6th 7pm
Fri Jan 6th 9pm
Sun Jan 8th 7pm – ASL Interpreter
Hosted by Jack StockLynn (Sir Cupcake) as the demon Handsome Hank Attic of Wondrous Things showcases some of Portland's most talented aerialists and dancers. This show plays for one weekend only. Get your tickets now before they are all gone!