New Deal Distillery Spirits Offering Curbside Pickup 7 Days a Week | Order Online, Vodka, Whiskey, Brandy, Gin & More!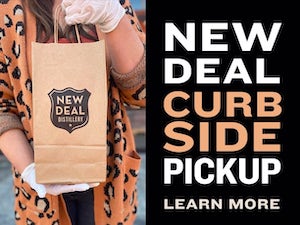 New Deal Distillery Spirits & Hand Sanitizer
7 Days A Week
More info: newdealdistillery.com
Tasting Room
900 SE Salmon Street, Portland, Oregon 97214
(503) 234-2513
New Deal Distillery is now offering Curbside Pickup 7 days a week! Order online through our website and we'll bring your favorite spirits out to your car or bike when you swing by the distillery.
We offer a variety of spirits, mixers, and barware on our website— everything you need to make a great cocktail at home!