Kells Brewery Offering Takeout in NW Portland | Family Size Meals, Beer, Wine, Soda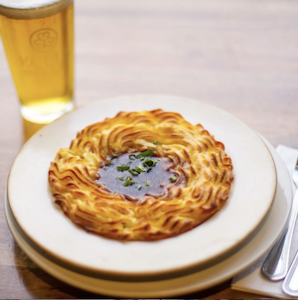 Kells Brewery Open for Takeout
Wednesday-Saturdays
4-9PM
More info: kellsbrewpub.com
Order by calling 503-719-7175
Kells Brewery
210 NW 21st Avenue, Portland, OR 97210
Kells Brewery is the latest Portland establishment to offer take out. The brewpub, located at 210 NW 21st Ave., is offering family size meals and à la carte items of some of its most popular dishes, plus house-made beer, wine and soda to go. Take out is available Wednesday through Saturday from 4pm to 9pm; orders can be placed by calling 503-719-7175.
Family meals serve four and come in two options: a Corned Beef Dinner served with mash, carrots, cabbage and a 32-ounce growler of Kells beer; or a Shepherd's Pie Dinner with four individual pies, a Caesar salad and a 32-ounce growler of Kells beer. Each family meal sells for $75.
The pub is also offering a selection of some of its favorite items à la carte, including corned beef pasty, ​​shepherd's pie, sausage roll, rice and kale bowl, Southwest bowl, Caesar salad, bangers and mash, corned beef and cabbage, Kells burger and crisps, Kells Irish Stew and soup of the day.
Kells beer is available to go in cans and growlers, along with select wines and Wyld sodas. The brewery is also encouraging people to "Buy a Drink for an Essential Worker." For $7, purchasers will receive a token that can be redeemed for a beer, house red or white wine or a well drink once Kells has opened back up. The token will be valid at Kells Brewery or Kells Irish Pub and does not expire.
View the entire takeout menu at KellsBrewery.com and engage at @KellsBrewery on social media.
---
PDX Pipeline Free Community Promotions
This is a FREE local listing provided by PDX Pipeline. Do you have a local business and want a free promotion? Fill out our form here: pdxpipeline.com/local