Holiday Tea @ Victorian Belle in North Portland | Afternoons & Evenings, Pastries, Savories, Holiday Decorations
From our sponsors: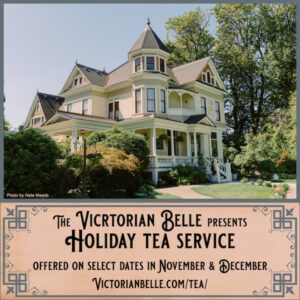 Holiday Tea
November – December 2023
$65-$70 Adults, $30 Children | All Ages
More info: victorianbelle.com
Victorian Belle
1441 N McClellan St Portland, OR 97217
The Victorian Belle's Holiday Tea is an elegant way to celebrate the season!
Our service features pastries from Little Banana Bakery, hot tea from Portland's Smith Teamaker, and savories from our own Chef Jorge Castillo Quintal presented on antique dishware. Seating options include ornately decorated parlor and second floor rooms featuring Victorian furniture, holiday decor, and lights.
For reservations, please leave a message at (503) 298 6884. Voicemail messages are returned on Mondays, Wednesdays, and Fridays. For additional information about menus, dates, and availability, see victorianbelle.com/tea/.
Holiday Afternoon Tea:
Sunday, November 19th
Saturday, December 2nd
Sunday, December 3rd
Sunday, December 10th
Saturday, December 30th
Seatings at 2:30PM, 3PM and 3:30PM
Holiday Evening Tea:
Friday, December 1st
Friday, December 15th
Sunday, December 17th
Monday, December 18th
Friday, December 22nd
Friday, December 29th
Seatings at 5:30PM, 6PM and 6:30PM