The Theatre Company presents CALIFORNIA @ ADX Portland | Alternate Reality Mind-bender
From our sponsors: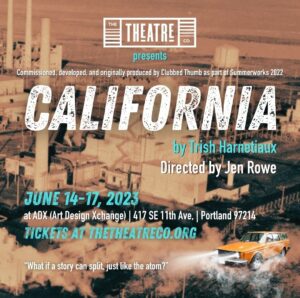 The Theatre Company presents
CALIFORNIA
June 14-17, 2023
8PM | $25
More info: app.arts-people.com
ADX Portland
417 SE 11th Ave., Portland
The Theatre Company is proud to present the West Coast premiere of California by Trish Harnetiaux, June 14 – 17 at ADX Portland. Originally commissioned, developed, and produced by Clubbed Thumb as part of Summerworks 2022, Harnetiaux's unconventional play is an innocent road trip turned alternate reality mind-bender set entirely in a family car. Basically. But what if a story can split, just like the atom? An intermittent AM radio signal in eastern Oregon might give way to coexisting realities on the road from Spokane, Washington to Huntington Beach, California.
"California is like a maddening Google Map offering confusing routes from starting point A to destination infinity." – The New York Times
"While the play moves through time and space in unusual ways, Harentiaux's foundation is emotional honesty. What is real are these characters and their relationships." – Exeunt NYC
Jen Rowe directs Duffy Epstein, Rose Bonomo, Clifton Holznagel, Kelsea Ashenbrenner, and Angie Tennant in a four-performance run at ADX Portland. Limited seating available — advanced tickets are strongly recommended.