Hawthorne Ghost Tour Offering Private Sessions | Spooky & Real-life Stories of Portland's Old Red Light District
From our sponsors: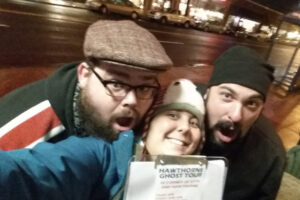 Hawthorne Ghost Tour
$40 per person
Tour Last 1.5-2 Hours
More info: tourhawthorne.com
The East Side's most popular walking tour is back and offering private tours! For more information about this fun, exciting, and educational adventure along East Portland's most haunted street go to TourHawthorne.com or call Marina at 714-675-1124 to schedule a tour today!
The Hawthorne Ghost Tour is a fun, exciting, and educational adventure through the heart of East Portland's old red light district. This is a walking tour that takes between 1.5 and 2 hours, during which we will walk approximately a mile and a half.
We have frequent stops to tell spooky and real-life stories about Portland and the Pacific Northwest, and we attempt to make contact with the hereafter at two separate locations, weather permitting.
The fine print: Private tour tickets are $40 per person. All tour guests must wear their mask while on the tour. Tour groups must be at least 2 people and no more than 6 people. Tours happen on your schedule, as long as we have availability.