Win Kombucha ($60): Happy Mountain Kombucha Offering Delivery to Portland & Vancouver | Cases & Mix Packs
We are giving away a mixed 24 pack of kombucha delivered to your door (Delivery to Portland/Vancouver areas–with some exceptions to Beaverton, Milwaulkie, Happy Valley, and Oregon City) To win, comment on this post why you'd like to win. Winner will be drawn and emailed July 20.
————-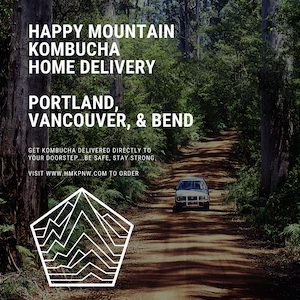 Happy Mountain Kombucha
More info: happymountainkombucha.com
Every batch of HMK is brewed with hand blended tea using a combination of white peony tea, herbs, flowers, spices and extracts.
With many of us staying home to do your part and small businesses like us experiencing challenges, we're aiming to do our small part. Our local deliveries now span all homes in Portland, OR and Vancouver, WA. Unfortunately, as a small team of 6 people, we're unable to reach outside these areas at this time. Thank you for your understanding and support.
Here's the rundown to order:
Pricing is less than the grocery store: $30 for a 12 bottle case (minimum 2 cases), $60 for a mixed 24 pack. That's $2.50 per bottle! We're also offering $20 t-shirts & sticker pack with purchase.
All orders are a $60, or 24 bottle minimum. We're requiring 2 cases or 1 mixed 24 pack to make delivery cost effective.
Pick your flavors. 12 packs are a single flavor of your choosing from our 6 flavor options (I.e. One 12 pack of Lavender White and one 12 pack of Ginger, please!). Mixed 24 packs include 4 bottles of each of our 6 flavors (try them all!).
Email your order to "[email protected]" and include: Your name, delivery address & instructions for a safe drop off, your phone number, and desired quantities & flavors.
Receive your email invoice for online payment & next day delivery once paid.
Delivery & storage. We are doing contact-free drop offs for all our safety. We know refrigerator space is at a premium. Your kombucha can be stored in a cold place like a basement, garage, or covered deck for up to a month. It won't go bad, it might just be a little more bubbly!
Gift some happy We have seen so much kindness during these trying times. Share the happy by gifting some kombucha to a friend that lives in Portland. Just give their address in the e-mail and we'll drop it off at their doorstep.
Donate some happy Many of you have opted to donate your kombucha to health care workers. If you are interested in donating to those on the front lines, please just add any dollar amount you wish to donate into the e-mail order. We have health care workers in the ICU that we have been donating to in support. It's amazing how a little bottle of kombucha can have such an impact to those working overtime to help keep us safe.
Drop us a note with any questions or concerns. Like you, we're doing our best to flatten the curve and support our community & small business. Thank you for your order, it truly helps.
We are in this together. We will get through this, together. Love one another. Thank you and be safe, ya'll!
– The Happy Mountain Kombucha Team