Hammer & Stitch Brewing Co Presents Toasts With Hosts | Virtual Beer & Food Tasting
From out sponsors: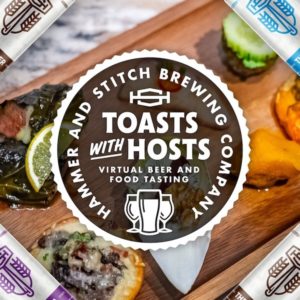 Toasts With Hosts
March 13, 2021
4:30PM | $75 (for 2 people) | 21+
More info: hsbrew.co
Hammer & Stitch Brewing Co is hosting a Virtual Beer & Food Tasting on March 13th at 4:30. TOASTS with HOSTS is the first-ever digital engagement, chock full of carefully crafted beers, paired with insanely delicious bites (think Thai Meatball with cucumber, grape leaf-wrapped leg of lamb, roasted eggplant & grilled shiitake mushrooms….yeah, we're talking that kind of quality tasting menu) enjoyed on a Saturday afternoon chillin' on your couch in your sweatpants. How could you say no?
The tasting is available as either meat or vegan focused; both brilliantly paired and executed. Our superstar panel of hosts will drink some beer, eat some food and rap about making beer, pairing beer with food, sharing beers and the state of beer in Portland – and beyond!
Each tasting menu ticket is designed to be enjoyed by two people, and includes:
6 hand selected Hammer & Stitch canned beers to share
9 incredibly crafted tasting bites per person
2 Bombastic Desserts
Zoom Webinar Invite
Additional info and ticket purchasing can be found at https://www.hsbrew.co/toasts-with-hosts
**Tickets must be purchased by March 11th, midnight.
Who is Hosting?
Ben Dobler: Co-Founder & Brew Master, Hammer & Stitch Brewing Co
Cam Murphy: Head Brewer, Hammer & Stitch Brewing Co
Alex Chong: Co-Owner, Grand Cru Hospitality (H&S's food partner in the taproom)
Nicole Kasten: Owner, Beer Connections
Tell me more about Hammer & Stitch Brewing Co!
Hammer & Stitch opened its Slabtown taproom in October 2020. Yep, during a global pandemic, but we feel pretty darn good about the craft and quality of our beers. Our brewery and taproom are a comfortable, inclusive environment created to make the statement that "beer is for everyone" – we love all styles! Our model is simple; design a consumer-centric beer portfolio that is approachable, easy-to-understand and super-drinkable.
Check us out! We are located at 2377 NW Wilson St in Portland, 97210.