Free Virtual 2021 Portland CSA Share Fair | A Week-Long Series About Community Supported Agriculture, Connect with Your Local Farmer
From our sponsors: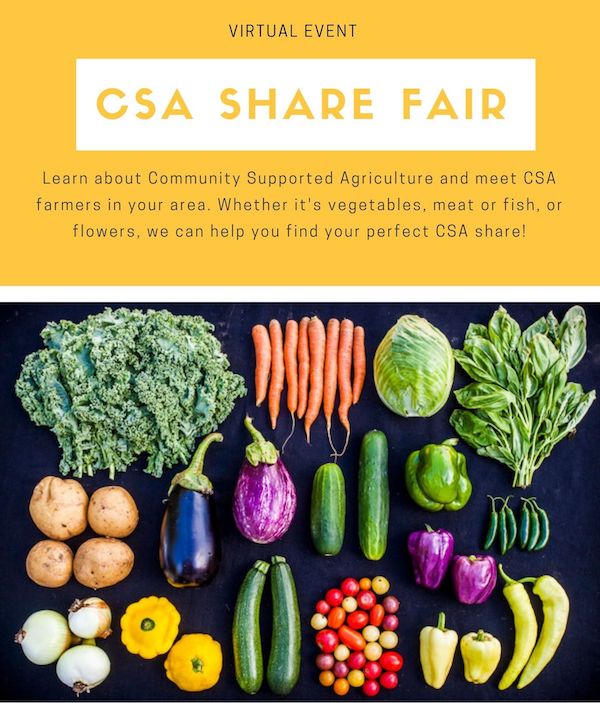 CSA Share Fair
February 21-27, 2021
Free w/ Suggested Donation
More info: pnwcsa.org
The Pacific Northwest CSA Coalition presents its sixth annual CSA Share Fair, bringing local farms to the people this year in a virtual format. Participants can find and connect with their local farmers and learn about community supported agriculture (CSA). Explore what CSA is, why it's important to our health, environment, and local economy, plus how to get the most out of your CSA share all season long.
This year's Share Fair features exciting, information-laden events including:
Cooking demos –

Jim Dixon, Founder of Wellspent and Real Good Food, and local chef Diane Lam of Sunshine Noodles will cover topics such as pantry preparedness, how to make vegetable lovers out of everyone at your table, climate change implications in farming and food waste.

Farmer panels –Topics include CSA Overview, Connections Between Environment and People, The Role Animals Play in Agriculture, and Justice and Access: Who Gets To Farm.
CSA Matchmaking – This session aims to answer the larger questions of "Why CSA?" and "How do I find the best match farm for me?" Virtual breakouts with farmers will include short presentations on their farming approach, and answer questions so attendees can find the right CSA program for their household.
Free tickets are available at https://www.pnwcsa.org/, with a suggested donation made to PNWCSA.
Donors have a chance to win PNWCSA's signature grocery bag, including amazing goodies from our supporters – Aniche Cellars wine, Westward whiskey, Smith Teamaker tea, a Portland Farmer's Market cookbook, Concentrates Inc. gardening seeds, and more!
All proceeds go directly into future programming to make CSA affordable and accessible to all.