Free Outdoor Summer Movies 2023 Flicks on the Bricks @ Pioneer Courthouse Square in Downtown Portland | Women's World Cup Watch Party, Giant LED Screen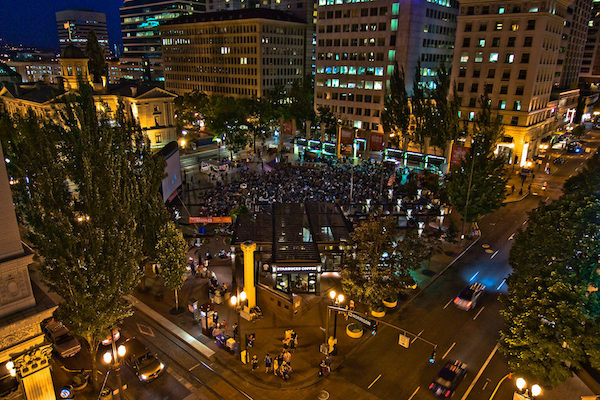 Portland's favorite summer film series Flicks on the Bricks is back this year July 22-24 with a giant LED screen! All films have a themed around sports and on Friday night
——————
Related Portland Events & Giveaways
————————
From website: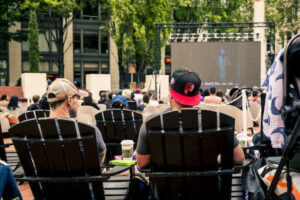 Flicks on the Bricks
July 21-23, 2023
More info: thesquarepdx.org
Pioneer Courthouse Square
715 SW Morrison St Suite 702, Portland, OR 97205
Portland's original FREE outdoor movie series, Flicks on the Bricks presented by SmartPark, returns this summer to Portland's Living Room for a multi-day event. Beginning Friday, July 21st – Sunday, July 23rd The Square will be transformed into Portland's largest outdoor movie theater for all community members to enjoy!
This year's sports-themed movie series will be shown on a 13'x23' LED screen to expand movie offerings for children and adults while providing increased clarity in the evening hours. In addition, free movie snacks will be offered to the first 250 attendees during Saturday and Sunday movie showings.
This year the Square has added a limited amount of comfortable theater style on site seating for viewers to enjoy. In keeping with the Flicks on the Bricks tradition, The Square will continue to welcome movie viewers bringing their own low-back chairs, blankets, pillows, cushions, or bean bags to truly make The Square their "Living Room" during each movie. Admission is free and all seating occupancy will be available on a first come, first served basis.
On Friday, July 21st The Square has partnered with The Sports Bra and Portland Community Football Club to host a FREE Women's World Cup Watch Party during Flicks on the Bricks presented by SmartPark's opening night. Team USA will kick off their 2023 World Cup run at 6pm on Friday July 21st against Vietnam and prior to the game, there will be a FREE showing of the movie Bend It Like Beckham.
Friday July 21st:
2PM Bend It Like Beckham
6PM Women's World Cup Watch Party
Saturday, July 22nd:
Noon The Sandlot
2:30PM Bring It On
5PM Creed
7:30PM Talladega Nights
9:30PM Friday Night Lights
Sunday, July 23rd:
Noon Space Jam: A New Legacy
2:30PM Happy Gilmore
5PM Free Solo