Explore Oregon's Hood River Fruit Loop | Gorgeous Views, Summer Harvest Produce, Flowers, Lavender, Railbikes Ride, Animals & More!
From our sponsors: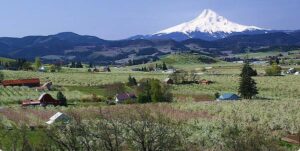 Hood River Fruit Loop
More info: hoodriverfruitloop.com

Delicious cherries are available in abundance throughout the Hood River County Fruit Loop. Farm stands along the Fruit Loop offer fresh fruits and vegetables, pies, jams, jellies, ice cream, milkshakes, and freshly preserved produce. You'll also find lavender, wines, and gifts. Bring the family and enjoy the drive, the gorgeous views and vistas, and of course, all this beautiful fresh summer fruit.
The Hood River County Fruit Loop is 35 miles of orchards, forests, farmlands, and friendly communities. Along the Loop are 31 visitor-friendly businesses that include farmstands, wineries, a chestnut farm, lavender fields (including a new lavender stand, Hope Ranch Lavender), and gift stores. See hoodriverfruitloop.com to find information about these events and more, along with details about each Fruit Loop business and a downloadable Fruit Loop map.
JULY 1-31 Apple Valley Country Store & Bakery Celebrates Everything Cherry
Join us all month long for the ultimate cherry experience! Daily: cherry milkshakes, variety of fresh local cherries, hand-rolled cherry pies, cherry scones, mu ns, hand pies, cherry jams, jellies, pie lling, syrups and more. Weekend specials: fresh baked cobblers, crisps and cookies.
JULY 1-31 Draper Girls Country Farm U-pick Cherry Bonanza Family fun in July!!
Pick your own cherries by the bucket or purchase in our Country Market. Many jams, jellies and berries available. Take home fresh pressed cherry ciders, or enjoy our award-winning hard cherry ciders by the glass or growler. Visit our farm animals.
JULY 1-31 Packer Orchards & Farm Place Cherry Days
All of July is CHERRY SEASON at its sweetest. Fresh cherries straight from the orchard, or pick them yourself ! Cherry jam, pies, cookies, and more from the bakery. Don't miss our famous smoked cherry BBQ sauce, we only make this once a year! Check our website for cherry u-pick information and more Cherry Days happenings!
WEEKENDS IN JULY Hood River Lavender DAZE
Hood River Lavender will be celebrating our peak lavender season every weekend in July! We will be bringing in local vendors, selling lavender refreshments, and offering u-pick. Follow our social media to see what will be featured each weekend!
WEEKENDS IN JULY STARTING JULY 16TH Kiyokawa Family Orchards Cherry Harvest Kicking off our season with our Cherry Harvest! You'll have the opportunity to u-pick cherries every weekend in July until they are gone! We offer a variety of cherries for u-pick and pre-picked: Rainier, Lapin, Black Pearl, and more. Boxed cider, delicious jams and local honey available.
Now Open: The Fruit Company, renowned for orchard-fresh gifts, kicked off a new tourism enterprise by purchasing the iconic Mt Hood Railroad, the terminus of which will soon be a unique gift shop and historical exhibit space — converted from part of The Fruit Company's 1940's era factory. The new factory store and historical exhibit space will be opening mid-July.
In addition to the new gift shop, historical exhibits, and train excursions, The Fruit Company is also introducing Railbikes to Hood River! The first excursions will be on Friday, July 15, 2022, starting at 9 am PST. Join the fun that day and be amongst the first ever railbike riders to tour the scenic Hood River Valley from this unique perspective. Opening day activities include complimentary drinks and snacks, raffling free tickets, and other great prizes!
Spots are filling up fast for the early excursions, and we suggest booking your seats in advance. See here to reserve your spot.