Dick's Primal Burger is Now Open in SE Portland! | Delivery Available, Healthy, Humanely Raised Meat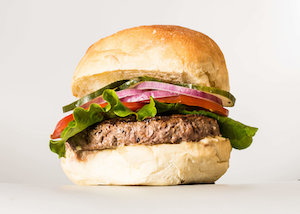 Primal Burger Now Open
Noon-8p Sunday-Th
Noon-9p Fri-Saturday
More info: dicksprimalburger.com
Dick's Primal Burger
4905 SE Woodstock Blvd, Portland, OR 97206
Packing all food "to go" but dining room and patio OPEN for dining in if there are seats available. All dining room tables 6 ft apart.
We have delivery available via DoorDash, Postmates, and Caviar. Open for take out via phone orders and drop in.
Dick's Primal Burger is, perhaps, the nation's first diner to systematically and actively incorporate dietary needs into its menu by offering mouthwatering fare made from healthy, humanely raised ingredients. In fact, the servers don't bat an eyelash when you request a special order or a modification. They encourage it because they know you want to feel good about what you eat.