Coming up This Week: ShanRock's Triviology Presents The Office TeleQuiz: Dwight In The Time of Corona! & Harry Potter Quizzery!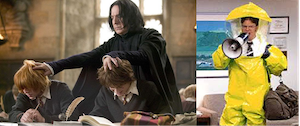 Triviology TeleQuizzery!
Live Interactive Trivia!
$20 per team; max team size = 5
$10 per solo player

Prizes for the champion teams! 
There are a few spots still available for this week's themed trivias from ShanRock!
April 18: Which Dunder Mifflin trivia team would you be on? The Just For Fun team? The A-Team? The Backups? We're gonna find out! This mandatory meeting is on Saturday, April 18th at 7p. All seasons of the US version of this beloved show will be fair game. To reserve a spot, Email ShanRock at [email protected]

April 20: Calling all Squibs, Muggles, Wizards, and Witches! The Ministry has fallen. Scrimgeour is dead. Virtual Harry Potter trivia night is coming April 20th @ 7p. The seven original books and films are fair game. To reserve a spot, Email ShanRock at [email protected]