Clark County Historical Museum Presents History on Tap: "Clark County's Brewing History:" | Live Stream Presentation About Area's Brewing History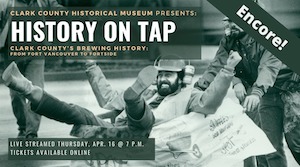 Clark County Historical Museum Presents History on Tap: "Clark County's Brewing History: From Fort Vancouver to Fortside"
April 16, 2020
$10 | Streaming Starts at 7p
Tickets: kigginstheatre.com
Clark County Historical Museum continues its 2020 History on Tap season live streaming on Thursday, April 16, with an encore presentation of "Clark County's Brewing History: From Fort Vancouver to Fortside." The event begins at 7 p.m.
This presentation provides an overview of the museum's newest exhibit, "History A-Brewin'," which celebrates Clark County's extensive brewing history and commemorates the 100th anniversary of the start of Prohibition.
Join keynote speaker and CCHM executive director, Brad Richardson, as he discusses brewing in the time of the Hudson's Bay Company and Vancouver Barracks; the era of Prohibition; the Women's Christian Temperance Union; and the establishment and growth of Great Western Malting.
The evening will include the ever popular segment, "Ask Pat," in which local historian Pat Jollota's answers one question about local history, as selected from social media (#AskPat), email, or submitted through the museum.
Tickets are $10 and can be purchased online at kigginstheatre.com/movies/history-on-tap. Ticket holders will receive a private link to the event prior to the show.
Audio and streaming support for History on Tap is provided by the Courtney Irvin Trust and Wager Audio. Additional support is provided by Vancouver's Downtown Association and ZZeppelin.
For more information, call the museum at 360-993-5679 or email at [email protected].
To learn more about the upcoming "History A-Brewin'" exhibit, visit cchmuseum.org/history-a-brewin.