Boom Arts Presents the U.S. Premiere of OKINUM @ Hampton Opera Center | New Indigenous Solo Performance
From our sponsors: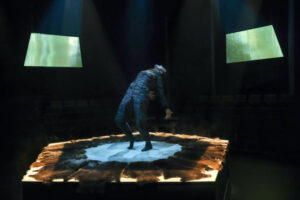 OKINUM
February 9 – 11, 2023
Thursday & Friday 7:30PM
Saturday Noon
Adults $35, Students/Seniors/Artists $20
More info: boomarts.org
Hampton Opera Center
211 SE Caruthers Street, Portland, OR 97214
Boom Arts presents the U.S. premiere of OKINUM by Onishka Productions for a limited 3-day engagement in Portland February 9 – 11, 2023.
Boom Arts presents the U.S. premiere of the solo theatre performance OKINUM following its run at the International PuSh Festival in Vancouver, BC. OKINUM will have a limited three-day engagement in Portland: February 9 – 11, 2023, at the Hampton Opera Center (211 SE Caruthers Street.)
In an intimate space, interdisciplinary artist Émilie Monnet presents a powerful theatre experience in French, Anishinaabemowin, and English. This innovative solo performance investigates the impacts of colonialism and the stories of Indigenous women through a personal narrative lens.
In Anishinaabemowin, "okinum" means "dam," a motif that storyteller Émilie Monnet uses as a symbol of inner barriers on the journey to break free. Performed in-the-round with a unique circular stage, projections, and live music, OKINUM immerses the audience in the artist's journey to reclaim her Anishinaabe heritage.
OKINUM was created by ONISHKA Productions, an interdisciplinary arts organization that builds bridges between Indigenous peoples worldwide while honoring their diversity, richness, and resilience. Their collaborative artistic expression challenges how the realities and struggles of Indigenous peoples are perceived and seeks to transform the world we live in. They are based in Tiohtià:ke/Mooniyaang/Montréal.