Boedecker Cellars Presents Pandemic Relief Wine Boxes | Willamette Valley Grown, Handcrafted in Portland, Free Local Delivery
From our sponsors: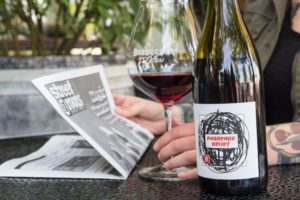 Pandemic Relief Wine Boxes
Purchase online at store.boedeckercellars.com
Curbside Pickup and Onsite Purchase Hours
Tuesday – Thursday 11:00 am to 3:00 pm
Friday 11:00am to 6:00 pm
Saturday and Sunday 2:00 pm to 6:00 pm
Location: 2621 NW 30th Avenue, Portland, Oregon
Six handcrafted wines in each Pandemic Relief box, all grown in the Willamette Valley and hand crafted in NW Portland and selected by the winemaker. Purchase online and choose free delivery if you are in the Portland Metro area.
We've had [What's so funny 'bout] Peace, Love, & Understanding running on repeat here at the winery for a while now. Whether you love Nick Lowe's original rendition or one of the many great reboots, this song reminds us that we have the power to make our world a happier, healthier, more equitable place. Let us open some wine, our hearts and minds, and enjoy some Peace, Love and Understanding during this pandemic.
Settle in with some great Willamette Valley Pinot noir and feel the calm wash over your soul. These wines are perfect for any night of the Pandemic week.
Our own love letter to you, who support us and all local makers during this unstable time. We thank you, we love you!
Understanding During a Pandemic
A wonderful selection of wines that cross the spectrum of our Willamette Valley AVAs – Gain a deeper understanding of Boedecker Cellars, and why we chose to make wine in this region (besides the fact that we grew up here and love it to death).