BODYVOX Dance Center Presents Serious Cupcakes | An Evening of Perfectly Packaged Artistic Treats
From our sponsors: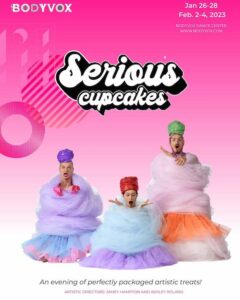 Serious Cupcakes
January 26-28, February 2-4, 2023
7:30PM (Also 2PM Feb. 4)
Starts at $25
More info: bodyvox.com
BODYVOX Dance Center
1201 NW 17th Ave., Portland, OR 97209
A fresh batch of SERIOUS CUPCAKES!
SERIOUS CUPCAKES is back! Join us for an evening of perfectly packaged artistic treats. Running two consecutive weekends, Jan 26 – 28 and Feb 2 – 4 at BODYVOX Dance Center, Serious Cupcakes is a dance theater experience that explores the world through the eyes of inspired choreographers who have been invited to create brand new premieres for our BODYVOX company dancers.
Get ready for a superb collection of premieres from new and newly-inspired choreographers, making delightful dances filled with BODYVOX's signature athleticism, humor, and theater!
Choreographers:
Bo Brinton
Mr. Bobby Fouther
Jenelle Gaerlan
Theresa Hanson
Darvejon Jones
Andrea Parson
Laure Redmond