Blueprint Choral Ensembles Present: Voyage of the Pirate-Hunter in NE Portland | A Choose-Your-Own-Adventure Musical Tale!
From our sponsors: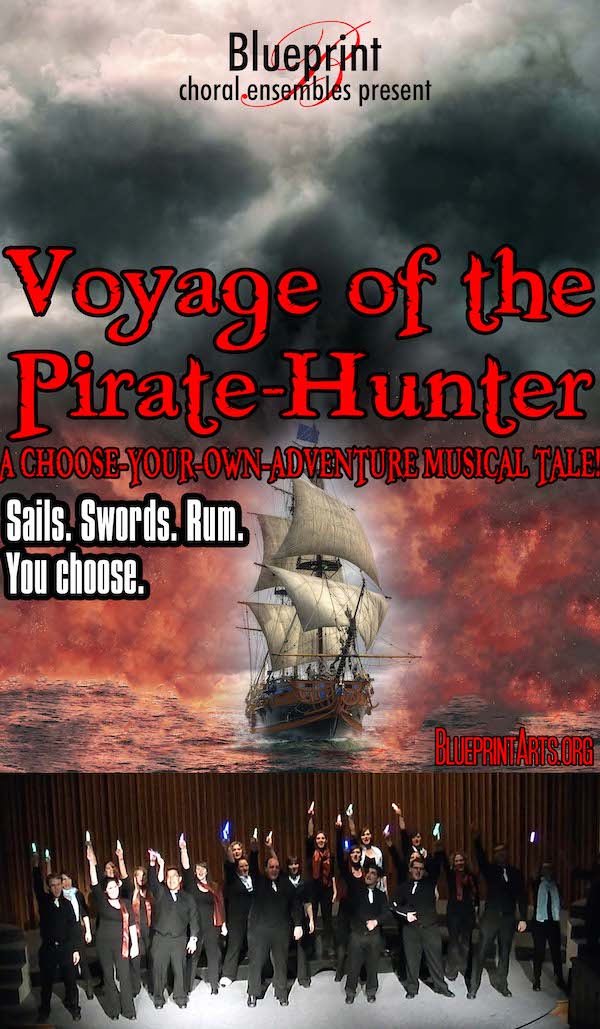 Blueprint choral ensembles present:
Voyage of the Pirate-Hunter
A Choose-Your-Own-Adventure musical tale!
May 6, 2023
6:13PM | Free Entry | All Ages
Dessert Included!
More info: blueprintarts.org
Located: 5830 NE Alameda Street, Portland
Finishing their 2023 spring performances, Blueprint brings a unique concept within the choral and theatrical arena:
letting the audience choose what comes next!
With provided handheld digital devices, the audience will get opportunities to select/vote
— at numerous junctures in this pirate thriller —
which path the main characters will take next!
Backed by a fast-paced plot, audio and visual enhancements, and (of course) an amazing soundtrack, the jukebox-musical-style Choose-Your-Adventure-Now show packs fun and quirky elements together with the amazing choral music that the organization highlights at every show!
THE STORY (in a sentence or two):
Pirates are running — well, sailing — rampant! What are we to do?
Come be part of the story, helping decide what our heroes will do next, with a soundtrack that could include:
Lady Gaga's Hold My Hand
Bonnie Tyler's Holdin' Out for a Hero
Fleetwood Mac's Go Your Own Way
Bon Jovi's Livin' on a Prayer
Johnny Cash's Hurt
One Day More from Les Miserables
A Whole New World from Aladdin
Esenvald's Longing
And, of course, you can't set sail without a sea shanty!
Oh, and much, much more!
Grab your eyepatch and peg leg and join us for a musical journey of danger and intrigue!
So come and be a part of the show, and a part of the story!