Beyond PICA Virtual Fundraiser | Featuring 30+ Artists, Artist Conversations, Performance Works, Dance Parties & More!
Portland Institute for Contemporary Art (PICA) presents Beyond Now, a party with a purpose, a fundraiser for PICA featuring over 30 artists! Kicking off on Thursday, May 14, and Friday, May 15, with a live hosted event on Saturday, May 16, Beyond Now will include artist conversations, new video and performance works, dance parties, and more!
————–
Related Portland Events & Info
————–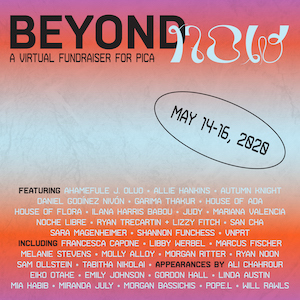 Portland Institute for Contemporary Art (PICA) presents Beyond Now
May 14 -16, 2020
Donate at pica.org
This is a party with a purpose: to raise much needed funds for PICA. If you love PICA, if you love contemporary art, if you want to stand with institutions that support artists, if you are looking for a good time, if you like to think critically, if you have ANYTHING that you can donate, and even if you don't, please join us for Beyond Now, a spectacle of radical giving, community, and hospitality–online!
Beyond Now will kick off on Thursday, May 14 and Friday, May 15 with lunchtime conversations with PICA's Artistic Directors. Discussions will center on "Liveness" with Jaamil Olawale Kosoko and Tabitha Nikolai, and on "Radical Giving Platforms" with Adrienne Truscott, co-founder of TrickleUP. Take a break and tune in for critical conversations from leaders in the creative community.
After you wrap up your day, grab a cocktail and join us for a happy hour where PICA will be releasing short back-to-back video and performance works, commissioned specifically for this fundraiser. In typical PICA fashion, round out your night with dance parties from VNPRT on Thursday and Noche Libre Collective on Friday!
All Events are Free, but this is a fundraiser, so give what you can!
Saturday, May 16 is when things really ramp up, starting with a welcome to the weekend playlist by Shannon Funchess of Light Asylum. Grab a coffee and gather your roommates for a brunch-worthy mid-day conversation, and come back in the evening for our main event…
Saturday's evening event will be the climax of Beyond Now! Hosted live by Carlos the Rollerblader, this evening will feature new performance works, appearances from internationally acclaimed artists, surprise guests, and, of course, a dance party from Portland favorite JUDY!
Are you on the East Coast or living abroad? Don't worry! Although scheduled for West Coast lunch and happy hour times, all events are early enough for everyone to enjoy!