BeerQuest Friday the 13th Haunted Pub Tour in Downtown Portland | Award-Winning Beer + Meet Ghosts of Old Town
From our sponsors: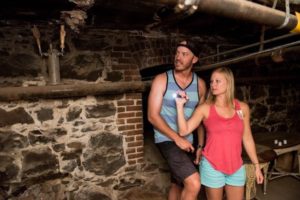 Friday the 13th Haunted Tour
August 13, 2021
$35 | Book in Advance* (Tour Sells out)
Reservations: beerquestpdx.com
Starts outside Kells Irish Restaurant & Pub
112 SW 2nd Ave, Portland, OR 97204
Join BeerQuest Walking Tours for a historical journey into Portland's wicked and lawless past. You'll meet the real ghosts of Old Town, hear first-hand accounts of paranormal encounters and learn about the Shanghai Tunnels. The tour includes 6 local craft beers at Kells Irish Pub.
In addition to the paranormal, this tour uncovers Portland's lawless past. Lively with restaurants and nightlife today, 100 years ago Portland was home to many less savory establishments – opium dens, brothels, underground speakeasies and kidnaping rings. In the 1800's, locals avoided this area because it was notoriously dangerous and a hotbed for kidnapping. Unknowing sailors were ruthlessly abducted and whisked away through an underground labyrinth known as the Shanghai Tunnels.
BeerQuest was recently recognized with the 2019 Trip Advisor Hall of Fame Award and has over 300 positive online reviews. Book today!