Win Tickets ($34): BackFence PDX Russian Roulette Live Storytelling @ Alberta House | True, Spur of the Moment 5-Minute Stories
We are giving away a pair of tickets to BackFence PDX Russian Roulette Live Storytelling on August 20. To win, comment below on this post why you'd like to attend. Winner will be drawn and emailed August 15.
———————————————
From our sponsors: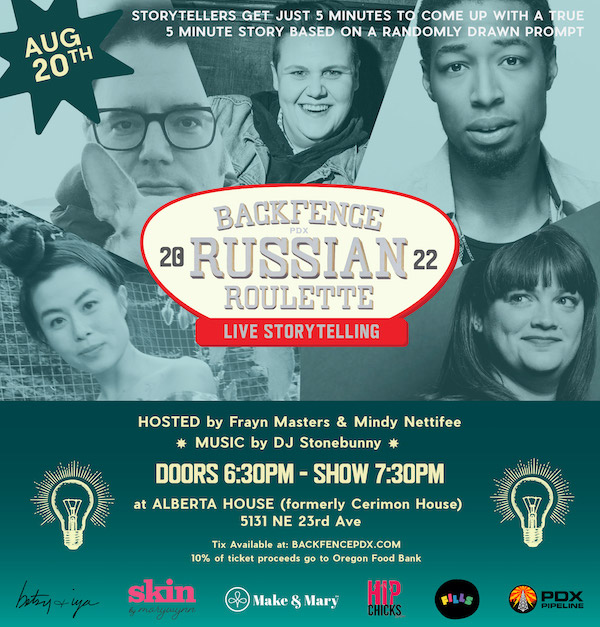 BackFence PDX Russian Roulette
August 20, 2022
6:30PM Doors, 7:30PM Show | $17 GA, $30 VIP | 18+
More info: merctickets.com
Alberta House (formerly Cerimon House)
5131 NE 23rd, Portland, OR 97211
AFTER 2.5 YEARS... we are back live and ready to welcome you into our new home, ALBERTA HOUSE (formerly Cerimon House), to hear some incredible stories! If you've been in Portland for a minute you might remember the beloved Sellwood venue, The Woods. AH has a similar storied feel to it. YOU ARE GONNA VIBE THIS VIBE.
AND ON WITH THE SHOW INFO…
How does Back Fence PDX: RUSSIAN ROULETTE work? Each show begins with a giant game show size wheel packed with juicy story prompts. One of our five seasoned storytellers is randomly drawn. To determine the random prompt for their story, they spin that giant wheel! They can play or pass their prompt (once). If they pass, another teller can steal their prompt. Then the risky part… each storyteller has only 5 minutes to come up with a true 5-minute story based on their prompt! It's like we invented a new game called truth AND dare. The audience votes on a winner at the end of the night – both the storyteller winner and one lucky audience member win a veritable bevy of prizes! We'll have some other new surprises for 2022 shows.
Hosted & Produced by FRAYN MASTERS & MINDY NETTIFEE
Music by DJ STONEBUNNY
STORYTELLERS FOR THIS ROUND
ARLO WEIERHAUSER Comedian, Portland's Funniest Person 2017, Actor, known for Timmy Failure: Mistakes Were Made. Formerly fired from: Subway, Zoom care, Nevada title loans, 4 software companies, berry picking, an escape room company. Has been asked to quit acting lessons, voice lessons, a team-building workshop, and 2 dance classes. Banned from one US Bank, and one Albertsons.
JASON ROUSE Returning RUSSIAN ROULETTE Winner, Actor/Writer/Teacher, Makes Great Cookies, Married With Small Dog,
MONICA CHOY Cat communicator, Sometimes psychic, Two-time dance contest winner, Traveled in a tortoise tent swapping stories in 33 states, Kitchen Witch, Once shared a laugh with The Fonz
JOEY SLAMON Returning RUSSIAN ROULETTE Winner, Writer for Arrested Development, Showrunner for I'm Sorry, Hot Fuzz and Jurassic Park Enthusiast, Rescue Diver, Mother for 1 year, Syrian and Irish, so Syri-ish, Amateur Lego Kit Builder.
LA'TEVIN ALEXANDER Actor, Portlandia, The Paper Tigers, GRIMM, Founder of Confrontation Theater, with a fierce and passionate commitment to uplifting the African diaspora and engaging communities through the art of theatre, film, tv, voiceover, and storytelling.