Angela Vineyards Open for Tasting in Carlton, Oregon | Reservations, Beautiful Views, Featured Chefs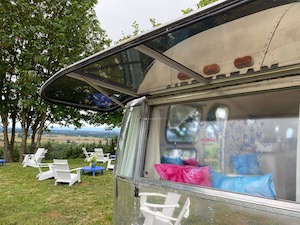 Angela Vineyards
More info: exploretock.com
Location: 11311 NW Bayliss Rd, Carlton, OR 97111
Angela Vineyards invites you to RETURN TO THE VINES: Refined but wild. Local yet universal. Spacious but personal. A wine-tasting experience reinvented for these times!
Angela Vineyards invites wine lovers to experience the wines through an intimate, outdoor tasting experience re-invented for this summer. Whether you're creating new connections, celebrating a milestone, or just getting the group back together, "Return to the Vines" was created to provide more than just a bit of wine and a pretty view. Instead, our experience exists to cultivate community, to provide a blank canvas where your group can create its own unique, shared experience that's equal parts inspiration and surprise. All of it takes place in the open land of a working vineyard, dotted with wild oaks, a really beautiful Airstream, and pops of unexpected fun. You won't find any etched logo wine glasses here. But you will find a clever menu from rotating local chefs, matched with our favorite wines and just the right amount of service. Best of all, you'll find plenty of room in the comfort and safety of the outdoors to make the occasion—whatever it is—truly yours.
Others from the local community that are involved include: Stolen Pony Lounge, Vein of Gold, Chloe Cox, Camille Shu, Elana Gabrielle, Erika Rier, Tour Print, Fortunato Interiors and Matt Firman Design.
Open to all wine lovers of legal age. Infants are welcome as well.
Reservations required. To comply with COVID-19 guidelines and maximize guest comfort, the tasting experience limited to 20 persons per seating. Individual parties can be up to 10 people. Food options will be available.
$40 per person. $25 for Angela Estate club members. Includes a tasting of 7 wines and a snack of specially prepared bites from the featured chef. All wines are available for purchase and consumption on site. A la carte food available for purchase as well.
Featured chef line-up:
 Megan Sanchez, Chef Owner of Guero – 6/25 – 7/19
 Karl Holl, Chef Owner of Spaetzle & Speck – 7/23 – 8/9
 Joshua McFadden, Executive Chef of Ava Gene's and Cicorria – 8/13 – 9/6
 Toro Bravo Inc, Chef TBC – 9/13 – 9/27
The Tasting Experience will open on June 25, 2020 and run through September 27, 2020, weather permitting. Operating hours are 12pm – 6pm, Thursday through Sunday each week. Each reservation is an hour and 30 minutes in length.