A Bubbly Spectacular! Summer Edition @ Pix Pâtisserie | Tasting 60 Sparkling Wines, Best-Dressed Contest, DJ, Oyster Bar, Saber
From our sponsors: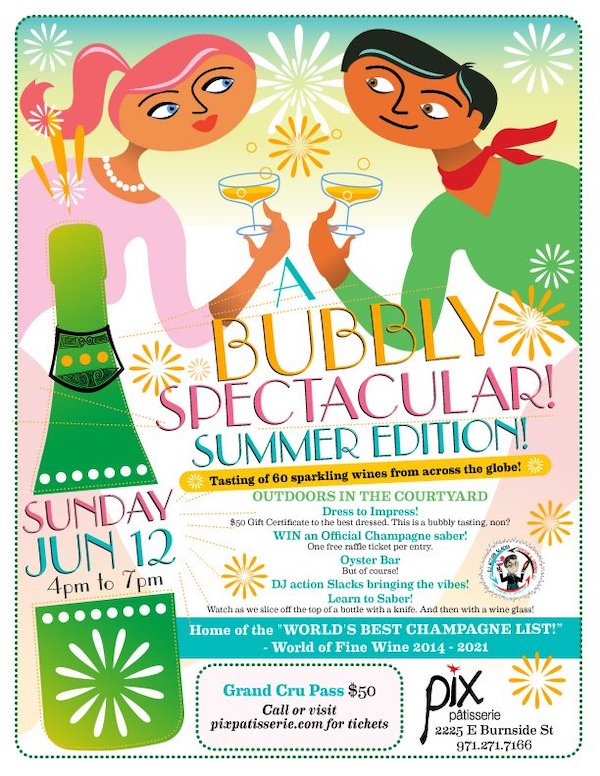 A Bubbly Spectacular Summer Edition
June 12, 2022
4-7PM | $50 | 21+
More info: pixpatisserie.com
Pix Pâtisserie
2225 E Burnside St Portland, Oregon 97214
Celebrate the art of making (and drinking) bubbles with the creator of the eight time award-winning World's Best Champagne & Sparkling Wine List! Pix is hosting an afternoon exclusively dedicated to sparkling wine from 15 different countries. White or rosé, sweet or dry, inexpensive or over the top – we will have it all. 60 corks will be popped from champagnes, proseccos, crémants, sekts, cap classiques and, of course, our local favorites. Peruse the selections and get your passport stamped each time you try a wine from a different country. This outdoor walk (or dance) around tasting will educate and tantalize your taste buds. But WAIT! There's more…
Dress to Impress! $50 Pix-O-Matic gift card to the best dressed. This is a bubbly tasting, non?
DJ Action Slacks Spinning the vinyl!
Win an Official Champagne Saber One free raffle ticket per entry.
Oyster Raw Bar! A slam dunk with bubbles.
Learn to Saber Ever open a bottle of sparkling wine by slicing the top off with a knife? How about with a wine glass? A sure fire way to impress your friends – just don't hit them in the face with the cork! Safety first as we show you the secrets of sabering.
Grand Cru Pass for $50 Includes a tasting of 60 wines. 100 Tickets available.