2023 Cheese and Meat Festival @ Leftbank Annex | Artisan Food & Beverage Festival, Discount Code
From our sponsors: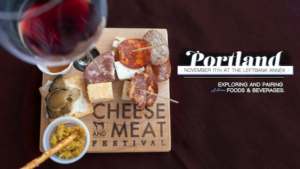 The Cheese and Meat Festival
November 11, 2023
From $63.75
Tastings Start at Noon, 3PM & 4PM
Save 20% off tickets at  cheeseandmeatfestival.com
More info: cheeseandmeatfestival.com
Leftbank Annex
101 N Weidler St, Portland, OR 97227
Come and experience the delightful aromas, flavors, and textures of the Cheese and Meat Festival, the one and only event dedicated to showcasing artisanal foods and beverages in the Pacific Northwest. At this festival, you can indulge in a variety of international and local artisanal foods and liquors. The festival will be held at the charming Leftbank Annex in Portland. As a guest, you will receive a small charcuterie board upon entry, which you can use to sample the delicious foods and drinks on offer, all while vendors describe the items being showcased.