2021 Portland Dance Film Fest | Featuring 31 Films, 5 Documentaries, Representing Multiple Countries
From our sponsors: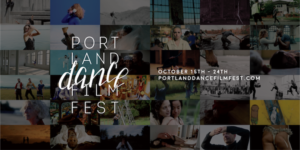 Portland Dance Film Fest
October 15 – 24, 2021
More info: portlanddancefilmfest.com
Portland Dance Film Fest is a multi-day festival running October 15 – 24, 2021. This year's festival will be a hybrid of online and in person screenings.
Join us for 31 spectacular PDFF Picks and 5 inspiring documentaries curated from 9 different countries. Each screening is a crafted evening of original and diverse dance film.
PDFF In-Person Picks
(subject to COVID mandates)
Location: Clinton Street Theater, 2522 SE Clinton St, Portland, OR
PDFF Picks 1 | October 15th, 2021 | 7:30pm
PDFF Picks 2 | October 16th, 2021 | 7:30pm
'UPROOTED- The Journey of Jazz Dance' Documentary | October 17th, 2021 | 3:00 pm
PDFF Picks 3 | October 17th, 2021 | 5:30pm
Doors open a half hour before screening.
'UPROOTED' is a feature-length documentary celebrating the history, lineage, and future progressions of jazz dance. Exploring and commenting on political and social influences, the film is an honest conversation about jazz dance addressing topics such as appropriation, racism, socialism, and sexism. With special appearances by Debbie Allen, George Faison, Chita Rivera, Camille A. Brown and Thomas F. DeFrantz. 'UPROOTED' also showcases the works of the Nicholas Brothers, Pepsi Bethel, Jack Cole, Katherine Dunham, Bob Fosse and Gene Kelly shining a light on what all people have in common, rhythm and a basic human need to get down.