2021 October Parkrose Marketplace | Costumes, Raffle, Live Music, Food, Drink Garden, Vaccines, Arts & Crafts & More!
From our sponsors: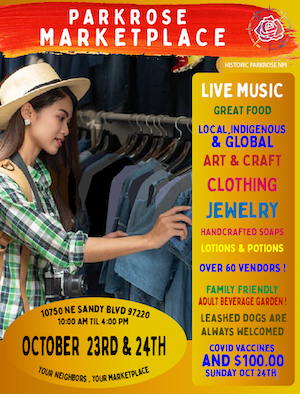 Parkrose Marketplace
October 23-24, 2021
10AM-4PM
More info: Facebook
Location: The lots at NE 108th and NE Sandy Blvd: 10750 NE Sandy
Parkrose Marketplace is Portland's coolest new outdoor market. Located on the lots at NE 108th and NE Sandy Blvd,open 10a-4p. Come in costume and trick 'r' treat at all the booths.
We've got live music, great food, beverage garden put on by Catman Cellars winery and Level Beer Brewery, local-indigenous-global art and craft, clothing, jewelry, handcrafted treasures of all kinds.
Let's all be cognizant and thoughtful about where we all are with this virus. Please have a mask with you. We have free masks for you! Be aware of your surround. If you find yourself in a crowd, pop the mask on! Easy Peasy! Let's have fun, enjoy the beautiful weekend, and be safe as well.
Well-behaved, leashed and picked-up-after doggies are welcomed. See us on Facebook. Live raffle at 3PM and entries don't have to be present to win!
We've partnered with OHSU to create a walk-in clinic for Covid vaccines! The OHSU vaccine team will be at the Market Saturday for info and outreach and on Sunday for the actual giving of vaccines.
So jump out of those sweats and get out into the fun and sun.
Bring the big tote because there are some seriously cool treasures to be had. See you there!