Win Tickets ($90): Shakey Graves w/ Jade Bird @ Pioneer Courthouse Square | Blues, Folk, Country, Rock
We are giving away a pair of tickets to Shakey Graves w/ Jade Bird @ Pioneer Courthouse Square on August 26. To win, comment below on this post why you'd like to attend. Winner will be drawn and emailed August 22.
———————————————
From our sponsors: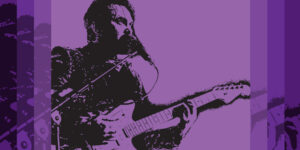 Shakey Graves
August 26, 2022
Doors 5:45PM, Show 6:45PM | $45 | All Ages
More info: pdx-live.com
Pioneer Courthouse Square
701 SW 6th Ave, Portland, OR 97205
The prehistory of Shakey Graves exists in two overstuffed folders. Inside them, artifacts document an immense era of anonymous DIY creativity, from 2007 through 2010 — the three years before ​Roll The Bones​ came out and changed his life.
There are stencils, lyrics, drawings, prototypes for concert posters, and even a zine. The latter, which Graves — aka Alejandro Rose-Garcia — wrote and illustrated, tells the tale of a once-courageous, now retired mouse who must journey to the moon to save his sweetheart. At the time, he envisioned the photocopied storybook as a potential vessel for releasing his music.
"There was a lot of conceptualizing going on — trying to figure out what I wanted stuff to look like, sound like, and be like," Rose-Garcia recalls, shuffling through the physical files on his second-story deck in South Austin. "And, honestly, a lot of trying to keep myself from going crazy."
In this lode of unreleased ephemera, CD-Rs are the most bountiful element. There are dozens of burned discs with widely varying track lists, loosely resembling what would become the Austin native's 2011 breakout debut ​Roll the Bones​. For Rose-Garcia, who's long loved the incongruous art form of sequencing strange mixtapes for friends, his own record was subject to change every time he burned a disc for somebody.
Roll the Bones​ was released on the first day of 2011 without a lick of promotion advancing it. It was simply thrust into the world as a decapod of perplexingly memorable, narrative-wrapped songs with a mysterious cover and no information about the artist… only available on the relatively new platform of Bandcamp.
That year, an editor at Bandcamp made it a featured album for a month and from there it stayed in the website's top selling folk albums evermore. The record has since seen well over 100,000 units sold — even while being available for free download. In the "Supported By" section of the ​Roll the Bones​ Bandcamp page, you can endlessly click "more" and squares of avatars will keep showing up until you grow tired and stop.
Accompanying ​Roll the Bones​ anniversary pressing are 15 additional tracks comprising an ​Odds + Ends​ LP, which stands as an essential document of Grave's early era. Highlights include the mandolin imbued "Chinatown," which sounds like it could be dubbed off a 1930's silver screen soundtrack, and "Saving Face" — a seminal version of what would become ​Roll the Bones​ title cut. The crown jewel, however, may be a the first ever proper recording of the trifling love song "Late July," a version that's drastically different than the live rendition that's racked 14 million views on YouTube.