Win Tickets ($40): Transviolet @ Mission Theater | Alternative Pop Rock, w/ Jagwar Twin
We are giving you another chance to win a pair of tickets to Transviolet @ Mission Theater on April 18. To win, comment below on this post why you'd like to attend. Winner will be drawn and emailed April 10.
———————————————
From our sponsors: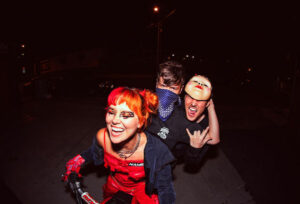 Transviolet
w/ Jagwar Twin
April 18, 2023
Doors 7PM, Show 8PM | $18.50 ADV, $20 Doors | All Ages
More info: mcmenamins.com
Mission Theater
1624 NW Glisan St, Portland, OR 97209
After a successful catfishing on a musician networking website, Sarah McTaggart began to collaborate with producer and bassist Mike Panek across the world, and over the internet writing the beginnings of what would eventually become Transviolet.
She made the move from the Cayman Islands, to Toronto, landing eventually in San Diego where they met for the first time and sparks flew, or at the very least no one was serial killed. Jon Garcia was brought in on drums, and later Judah McCarthy on guitar and keys after moving to LA and signing their first publishing deal.
For two years the band locked themselves in studios across the purgatory that is the San Fernando Valley (which would later be the title of their 2018 release), writing song after song, until piquing the interest of LA Reid and their first major label partner EPIC records.
From the very beginning, Transviolet has made a point to approach music differently. Like when they released their first single Girls Your Age, the band sent out 2,000 plain manilla envelopes to kids across the country containing a cassette tape that only said "play me", not realizing that was pretty near to the exact plot of the horror movie SAW. Blogs and press outlets took notice, but no one cared nearly as much as the mothers across the country when they took to facebook to demand answers, and threaten the band with legal action. It was hilarious.
24 hours later and Katy Perry Tweeted out the song, a week later Harry Styles. A flood of attention came to the band and they were thrown into the deep end that is the music industry. Writing with collaborators DreamLab (Selena Gomez, Miley Cyrus, Nicki Minaj…) Sam Hollander ( Panic At the disco, Fitz and the tantrums) Andrew Dawson (Kanye West, Tyler the Creator) and Nate Motte of 3OH!3, among many others, Transviolet put out two more EPs, seeing critical acclaim from countless press outlets.
Jagwar Twin
By all accounts, Roy English, the creative spirit behind Jagwar Twin, had been chewed up and spat out by the industry, with the singer-songwriter dropped from multiple major labels in his career. Often hidden in the background, despite a clear longing to lead from centrestage, the artist knows what it's like to sleep on friends' sofas after late nights playing small bars as if they were Madison Square Garden.
"From my childhood to being an adult, there has been this recurring theme of feeling misunderstood" the artist sighs. "People would make fun of my voice, which to be fair was really bad at the time. I never fit in with 'the boys' … or the girls really, and my music never fit into an industry box. But even when I was literally a starving musician, something inside compelled me to keep going."
Underrated 2019 album, Subject To Flooding, aligned with a period of project-defining production work and song collaborations with the likes of Matthew Pauling, S1, Travis Barker, and Jeff Bhasker. But if Subject to Flooding represented an artist working to figure out who they were before the pandemic storm, then new album 33 grew out of planted seeds in the flood rich soil; the underdog is coming for his crown.
"My hope is that the stories on 33 will show the listener to the listener," is English' fundamental ambitious aim with the new project. "It's about showing possibilities beyond the grid we're currently living in and, I guess, how a 33-year-old failed influencer finally found their voice in this digital-first world. I want to make music that makes me want to dance, too."