Win Tickets ($40): The Shape of Minds to Come Tour @ The Old Church Concert Hall | Featuring John Duncan, Schneider TM, Scot Jenerik, Chandra Shukla
We are giving away a pair of tickets to The Shape of Minds to Come Tour @ The Old Church Concert Hall on May 12. To win, comment below on this post why you'd like to attend. Winner will be drawn and emailed May 10.
———————————————
From our sponsors: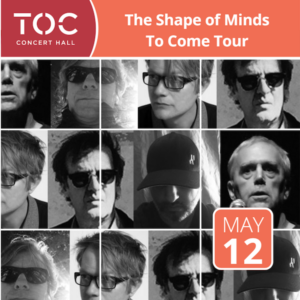 The Shape of Minds to Come Tour
May 12, 2023
Doors 7PM, Show 8PM | $20 | All Ages
More info: theoldchurch.org
The Old Church Concert Hall
1422 SW 11th Ave, Portland, OR 97201
John Duncan (Wichita, Kansas 1953) is a pioneer of performance art, installations, video and experimental audio who has lived and worked in Los Angeles, Tokyo, Amsterdam and northern Italy. His many releases are acclaimed by critics and composers as benchmarks of experimental music.
Schneider TM is a multidimensional music project of Dirk Dresselhaus, named after his nickname Schneider, which oscillates extensively between adventurous electronic pop-music and experimental, sometimes improvised freeform music, while occasionally bringing these and other opposing elements together.
Scot Jenerik (born 1964) is a multidisciplinary artist/instrumentalist, instrument builder, composer and sound engineer. He has performed, lectured and distributed works extensively in the United States, Europe and Japan for over 30 years.
Mr. Jenerik's explosive performances, incorporating hand built instruments of metal and fire, are infamous both around his home of San Francisco/Portland and throughout the world. Combining elements of Kodo drumming, drone and noise, Jenerik transfers the intensity of physical performance into a throbbing soundscape of rhythms, drones and direct elemental contact. His most recent performances are exploring harmonies and harmonics through the non traditional use of traditional instruments from Turkey and India.
Chandra Shukla (born Vivek Chandra Shukla 1975 Alameda, California) is an experimental/avant-garde musician interested in audio, video, live performances, graphic design and runs the independent record label Erototox Decodings. His history stems from learning Indian Classical Music by learning tabla from the likes of Pandit Swapan Chaudhuri and sitar from Pandit Habib Khan.
Xambuca is his main, sometimes instrumental and electro-acoustic experimental but more often non-categorizable music project, and one that has shared the stage with many guests including a rotating cast of characters with audio/visual elements both live and exhibited. The sounds are emitted from synths, guitar, samplers, sitar and vocals.