Win Tickets ($50): The Paperboys @ The Old Church | Folk Rock, Cajun Slamgrass, World
We are giving away a pair of tickets to The Paperboys @ The Old Church on November 20. To win, comment below on this post why you'd like to attend. Winner will be drawn and emailed November 15.
———————————————
From our sponsors: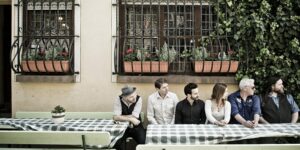 The Paperboys
November 20, 2021
Door 7PM, Show 8PM | $25 | All Ages
More info: eventbrite.com

The Old Church Concert Hall
1422 SW 11th Ave, Portland, OR 97201
Celebrating their 25th anniversary year, Vancouver Canadian musician Tom Landa, is looking back on the legacy of his much-loved folk rock band The Paperboys. For a quarter century, The Paperboys have been touring the world and lighting up stages with their freewheeling blend of influences from Celtic and bluegrass, to Mexican son jarocho, brass bands, and Canadian roots. They have been called everything from Cajun slamgrass to worldbeat, they've received a Juno award (Canadian Grammy), plus two Juno nominations, two West Coast Music Awards, released nine albums, and regularly play two-night bills in the Pacific Northwest. But that's not what matters to Landa now. "What means more to me than anything else is to receive letters, emails, or hear stories from people who tell me that our songs helped them through a tough time, or that they used one of our songs for their wedding, or that an album of ours was the soundtrack of their summer. At the end of the day, accolades are nice, but they are nothing compared to connecting with people." Landa's song 'Better Than The Last' has become somewhat of an anthem for people who have gone through hard times.
It's a remarkably grounded perspective from a bandleader who's been through it all (including the passing of a band member). But Landa's an open-book kind of songwriter, a Canadian grassroots poet who loves to infuse his songs with exotic world rhythms, Celtic melodies and pop hooks. What's remarkable about the band, is their ability to seamlessly fuse all the different styles and make it sounds like they come from the same place. Their latest CD, ' Score' is full of these signature sounds: Spanish-language songs that reflect Landa's Mexican heritage, explosive brass lines from their extended 8-piece ensemble, Celtic fiddle and pennywhistle blazing through an old reel, English Language rock songs with strong pop influences, and a kind of melting pot sound that reflects not only the diversity of the band's home city, Vancouver, BC, but also a larger vision of what modern Canadian roots music should sound like.
The Paperboys were formed in 1992 when Landa first moved to Vancouver. "As a teen living in Ontario," he explains, "I was really influenced by the music coming out of Vancouver in the late eighties/early nineties. Bands like The Grapes of Wrath, 54-40, Roots Round Up and Spirit of the West, who were by far my biggest influence. I packed my bags and came to Vancouver solely based on the music scene."
Over time, The Paperboys were a key part of multiple waves of popular Canadian folk rock bands that included The Duhks, Ashley MacIsaac, Leahy, and Great Big Sea. "One big difference between Canadian Celtic artists from the east coast and Celtic bands in other parts of the world," says Landa, "is that we don't have the same approach to playing music, and we are not flame-keepers in preserving tradition, so we are free to mess around with it and create something different. We still have deep respect for the tradition but we are a product of where we are from and the multicultural city we call home.
Although the Paperboys have made critically acclaimed records, they are through and through a live act. They shine most on stage. They have spent the last 25 years on the road playing all over North America and Europe, where they have developed a large following without the aid of a record labels or radio play. They have become a festival favourite, and have played at Bumbershoot, Vancouver Folk Fest, Edmonton Folk Festival, Tonder Festival, Folk Im Schloss, Trowbridge, Warwick Folk Festival, The Queen Elizabeth Theatre and The Kennedy Centre to name a few.