Win Tickets ($60): The Paper Kites: North American Tour 2022 @ Aladdin Theater | w/ Rosie Carney, Indie Rock, Folk
We are giving away a pair of tickets to The Paper Kites @ Aladdin Theater on October 5. To win, comment below on this post why you'd like to attend. Winner will be drawn and emailed October 3.
———————————————
From our sponsors: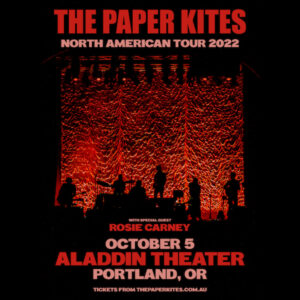 The Paper Kites
October 5, 2022
Doors 7PM, Show 8PM | $30 | All Ages
More info: event.etix.com
Aladdin Theater
3017 SE Milwaukie Ave, Portland, OR 97202
"Our hotel window in New York City looked straight into the apartment building across the street. You could see all these windows lighting up and people getting home from their nights out. We just sat there and watched them. It was fascinating. It was living art."
Sam Bentley, frontman for The Paper Kites spoke of the moment the album's concept clicked together. "It's a collection of stories about these characters all living in an apartment building; I wanted to capture moments, feelings, it's about people and their stories," he says of On the Corner Where You Live (out September 21 via Nettwerk Records), the Australian band's melancholic, mid-tempo companion to the recently released album, On the Train Ride Home.
Give them your tired, your lonely, your lovesick, your unsure, The Paper Kites have a song for each of them. "I created a world based on the idea of watching other people, but a lot of the songs are extensions of myself or people I know," he says.
Such artistic insight has earned The Paper Kites (which also includes vocalist Christina Lacy, guitarist Dave Powys, drummer Josh Bentley and bassist Sam Rasmussen) a loyal, organic fan base. In the eight years since they formed, what's followed is an impressive reach of their music, with steady international touring, nearly 47 million combined YouTube views and over 260 million streams on Spotify.
On the Corner Where You Live wafts evocatively with noir-ish saxophones, guitars, ambient traffic, even the languid sound of rain. Its levitating and bittersweet, heavy-hearted stories that are resoundingly universal.
Expanding on the group's acclaimed second full length, 2015's twelvefour, Sam says "I'm still very much drawn to the late nights and the sound of them: rich, honest, compassionate music." The group originally planned to release On the Corner Where You Live and On the Train Ride Home as a double album, but decided to split them up due to the difference between the tracks – "We had these earnest, minimal, almost acoustic songs and these bigger songs you hear in On the Corner Where You Live. Like two sides of a coin, it's the same feeling, just different expressions of them".
The Paper Kites co-produced On the Corner Where You Live with Grammy-winner Peter Katis at his studio in Connecticut – a 120 year old victorian era home that the band lived and recorded in for 5 weeks.
While The Paper Kite's songs explore longing and compulsions, Sam's own obsession lies in breaking elusive sound-emotion barriers. "It's a delicate responsibility to try and be sincere, but I think if there's never a lack of feeling, it's earnest to say the least".