Win Tickets ($55): The Milk Carton Kids & Katie Pruitt @ Revolution Hall | Indie Folk
We are giving away a pair of tickets to The Milk Carton Kids & Katie Pruitt @ Revolution Hall on October 20. To win, comment below on this post why you'd like to attend. Winner will be drawn and emailed October 17.
———————————————
From our sponsors: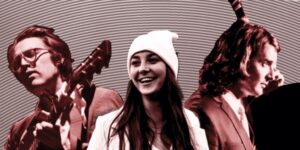 The Milk Carton Kids & Katie Pruitt – North American Tour 2022
October 20, 2022
Doors 7PM, Show 8PM | $27.50 | 21+
More info: event.etix.com
Revolution Hall
1300 SE Stark St., Portland, OR
Listening to The Milk Carton Kids — Joey Ryan and Kenneth Pattengale — talk about their creative process, it's easy to imagine them running in opposite directions even while yoked together. "Joey and I famously have an adversarial relationship," Pattengale says. They dig at each other in interviews and on stage, where Ryan plays his own straight man, while Pattengale tunes his guitar. The songs emerge somewhere in the silences and the struggle between their sensibilities. They have been known to argue over song choices. They have been known to argue about everything from wardrobe to geography to grammar. But their singing is the place where they make room for each other and the shared identity that rises out of their combined voices. Defying the conventions of melody and harmony is a strategy The Milk Carton Kids have consciously embraced. "Sometimes we'll switch parts for a beat or a bar or a note," Ryan says. "And that starts to obfuscate what is the melody and what is the supporting part because we think of both of them being strong enough to stand alone."
The Only Ones, the group's new record (out now on the band's own Milk Carton Records imprint in partnership with Thirty Tigers), finds Ryan and Pattengale performing a stripped-down acoustic set without a backing band. On The Only Ones, the pair returns to the core of what they are about musically: the duo.
Ryan and Pattengale also recently hosted the 18th annual Americana Honors & Awards for the second year in a row, while the group has been nominated for three Grammy Awards: Best Folk Album in 2013 (The Ash & Clay); Best American Roots Performance in 2015 ("The City of Our Lady"); and Best Engineered Album, Non-Classical, in 2018 (All the Things That I Did and All the Things That I Didn't Do).
Over the past few years, life has changed dramatically for The Milk Carton Kids. Pattengale has moved to Nashville, where he is also producing records; Ryan is now the father of two children and works as a producer on Live from Here with Chris Thile. A break from years of non-stop touring, Ryan says, has yielded "space outside of the band that gives us perspective on what the band is."
Katie Pruitt
Katie Pruitt, a 27-year-old artist who recently released Expectations — a defiant coming-of-age debut album about being a lesbian raised Catholic in Atlanta — is about to enter into her Saturn returns era, which means her life is going to get weird. Or so Brandi Carlile, the six-time Grammy winner, tells her. "You're going to freak out, probably," Carlile says. "Right when you turn 30." But, Carlile assures her, "I feel like the best records happened on these big, precipice moments in life."
In the last year-and-a-half and in spite of the pandemic (which hit the month following her album was released), Pruitt has forged ahead, garnering widespread acclaim and praise from press and fellow artists including Carlile, Ruston Kelly, Leslie Jordan, Bob Weir and many more. In addition to being nominated for Emerging Act of the Year at the Americana Music Association, Pruitt has been highlighted as a Rolling Stone "Artist You Need To Know," one of NPR Music's "Slingshot: 20 Artists To Watch" and Southwest Magazine's "Artists on the Rise" and was featured on NPR Music's "Tiny Desk (Home) Concert" series as well as "CBS Saturday Morning."