Win Tickets ($30): The Cabin Project Album Release Show w/Alexis Mahler @ The Old Church Concert Hall | Hybrid of Orchestral Folk, Rock & Indie
We are giving away a pair of tickets to The Cabin Project Album Release Show w/Alexis Mahler @ The Old Church Concert Hall on November 18. To win, comment below on this post why you'd like to attend. Winner will be drawn and emailed November 14.
———————————————
From our sponsors: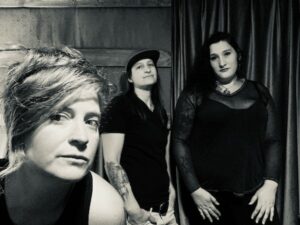 The Cabin Project Album Release Show w/Alexis Mahler
November 18, 2022
Doors 7PM, Show 8PM | $15 | All Ages
More info: etix.com
The Old Church Concert Hall
1422 SW 11th Ave, Portland, OR 97201
The Cabin Project – a quartet of queer, all women and non-binary Portland-based musicians – is a musical hybrid of orchestral folk, rock, and indie. The band's sound stems from haunting choruses, three-part harmonies, pedals, synths and strings. Sonically expansive, but heartfelt and intimate, The Cabin Project has used the last 12 years of writing and performing together to hone a sound all their own.
The Cabin Project, a project of Katie Sawicki – former-folksinger from Brooklyn, gone electric, is now defined by musical partner Zanny Geffel, rooted in jazz and percussive inspired drums, Jean Mastaler on effect-layered electric violin and Kris Doty on reverent, counter-melodic bass. Collaborator Kelly Clifton recorded bass on this most recent project. Five studio records and hundreds of shows across the country later, the band knows how each other takes their coffee, the musical heroes that define each member's individual sound, and the daily surprises a collective voice can yield in rehearsals.
This next record is a set of two EPs entitled "What I Heard When I Listened | What I Said when I Spoke". It is more than a nod to the last two and a half years, but moreso a dive into transformation. At a time when many worlds were turned upside down, these albums narrate the reflection, revelations, joys and struggles of what grows from the opportunity to start again. The break from touring and playing live allowed the group an opportunity to reflect on our creative process as well the critical role of music and expression at this moment in time. The songs that emerged speak to a time of intensive listening and discovery. To help support this process, the band also ensured our communities were a part of each step of the process; the project was entirely written, recorded, mixed and mastered by queer, women, and/or non-binary artists. The Cabin Project will release "What I Heard When I Listened | What I Said When I Spoke" on November 18th at the Old Church in Portland, OR.
Alexis Mahler
Portland's Alexis Mahler explores her softness through the dark and earthy colors of the cello, a somber strum comforted by delicate lyrics and playful, mellow melodies. Mahler innocently reaches for the most tender and heartful listener.
As a classically-trained violinist and cellist, Alexis spends her days teaching a private studio full of lovely, bright young string players, doing session work as a one-person string section for her beloved songwriter friends, composing and arranging pieces for string ensembles/her own solo projects, and studying other instruments such as electric bass and guitar. Special collaborators include: Michael Gamble, Matt Costa, Shook Twins, John Davey, Jacob Miller, Mero, Hanna Haas, Erisy Watt, Lindsay Clark, and Forest Veil.
"The beauty and power that Alexis Mahler creates with her voice and cello is simply mesmerizing. With patient and confident phrasing, a soothing resonance of vulnerability and strength, Mahler has delivered a poignant and intimate EP titled Away that draws us directly into her being. Songs of heartbreak, taking space, rebuilding a life, self care, or maybe — self survival. These are pertinent emotions in a world that is pleading to wake up tomorrow more empathetic than it did today."
— Glide Magazine