Win Tickets ($50): The Antlers @ Aladdin Theater | Indie Rock, "Post-rock Orchestra"
We are giving away a pair of tickets to The Antlers @ Aladdin Theater on May 23. To win, comment below on this post why you'd like to attend. Winner will be drawn and emailed May 16.
———————————————
From our sponsors: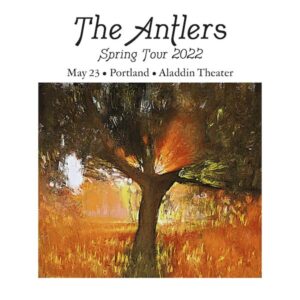 The Antlers
May 23, 2022
Doors 7PM, Show 8PM | $25 | Al Ages
More info: event.etix.com
Aladdin Theater
3017 SE Milwaukie Ave, Portland, OR 97202
w/ Wild Pink (Solo)
Earlier this year The Antlers released their first album in seven years titled Green to Gold, a bucolic record which Pitchfork described as "a post-rock orchestra playing around a campfire… the sound of hard-won peace of mind, rendered in the lightest brushstrokes."
Perhaps what distinguishes Green to Gold from the rest of The Antlers' canon is its, well, sunniness. Conceived and written almost entirely in the morning hours, Green to Gold marked the band's first new music in nearly seven years, and easily their most luminous to date. "I think this is the first album I've made that has no eeriness in it," Silberman asserts. "I set out to make Sunday morning music."
Unlike other Antlers albums, Silberman didn't feel compelled to turn a human experience into a circuitous mythology. He chose a more direct approach: documenting two years in his life, without overthinking or obscuring what the songs were about. "I think the shift in tone is the result of getting older," Silberman said. "It doesn't make sense for me to try to tap into the same energy that I did ten or fifteen years ago, because I continue to grow as a person, as I'm sure our audience does, too. Green to Gold is about this idea of gradual change," he sums up.
The band followed in late 2021 with Losing Light, a new EP that reimagines four songs from Green to Gold.
Crafting these new tracks, Peter Silberman wondered,"How would these songs sound if they were being reconstituted from memory fifty years from now, after decades of technological evolution, alongside analog and digital degradation? I began to consider how we reconstruct the past once we're many years removed from it, with only scattered, decaying artifacts to reference."
"Following this premise of Green to Gold as if remembered from the distant future, we began to reassemble pieces of several songs in different iterations— the earliest versions and demos, pieces of the album versions, and newly-created recordings," he added. "To bring them all into the same world, we processed each of these elements in ways that would repeatedly age them backwards and forwards, as if being blasted into the past, then flung into the future."
The Antlers will be embarking on a worldwide tour in the Spring of 2022 with a full band. It marks their first set of dates since 2019's sold out Hospice 10 Year Anniversary acoustic tour.