Win Tickets ($54): Summer Salt @ Aladdin Theater | w/ The Rare Occasions & Addison Grace
We are giving away a pair of tickets to Summer Salt @ Aladdin Theater on July 21. To win, comment below on this post why you'd like to attend. Winner will be drawn and emailed July 17.
———————————————
From our sponsors: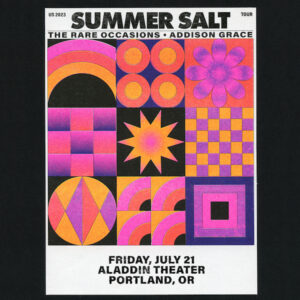 Summer Salt
July 21, 2023
Doors 7PM. Show 8PM | $27 | All Ages
More info: event.etix.com
Aladdin Theater
3017 SE Milwaukie Ave, Portland, OR 97202
Campanita, the new record from trop-pop duo Summer Salt out May 19 on Wax Bodega, is a breezy, blissful, and intimate monument to love, family, and everything in between. Its 12 tracks meander through sun-soaked and rose-tinted memories, deep rooted relationships and loss. The album drifts across a palette of dreamy jazz, bedroom pop, beachy bossa nova, and desert-night indie rock. There are guitars, keys, and gorgeous, cloud-light harmonies, but there are strings, synths, horns, and harmonicas, too.
Campanita takes its title from a nickname given to Terry's sister, Madeleine, by their grandmother. When Maddie and Terry's cousin, Angelina, passed away in January 2021, Terry was shaken to his core; it was the first time he'd experienced this kind of loss. He became determined to create something that would live on and celebrate the life of both his sister and cousin forever.
The process of creating the record allowed Terry to stay close to the two of them, and the end result is a work that will not die: it will live on forever, drifting through the heavy, warm southwestern air.
"The easiest place for me to put some of the energy I was feeling through this time was into something tangible, making something that will be permanent," says Terry. "I was thinking, 'This can't be over, her life can't be over, so I need to continue.' So that was just something I ran with, and it's been a beautiful process making this album."
The band will celebrate Campanita, their fourth full-length release, with a full US headline tour beginning in May. The LP is a bold step forward in Summer Salt's skyward career arc, which has built from auspicious Austin, Texas roots to count more than one million monthly listeners on Spotify and nods from both Live Nation's Ones To Watch and American Songwriter. Throughout the record's creation, drummer, percussionist, and keyboardist Eugene Chung experimented with new sonic elements, building a sound that's fuller and more textured. "As we get older and write more songs, Matt and I are getting more interested in the production side of things and trying to make things sound a little different than what we've been doing," says Chung.
Terry says of the writing process and the difficulty in writing about something so emotional, "Sometimes when I would be writing lyrics, it almost felt like they were gifts. It was like they were given to me."
More than any record before it, Terry and Chung are excited to put Campanita into the world. "It's here forever," says Chung. "Time can't take this away from us."