Win Tickets ($40): Sports / Hot Flash Heat Wave @ Revolution Hall | Dream Pop, w/ Sipper
We are giving away a pair of tickets to Sports / Hot Flash Heat Wave @ Revolution Hall on November 15. To win, comment below on this post why you'd like to attend. Winner will be drawn and emailed November 7.
———————————————
From our sponsors: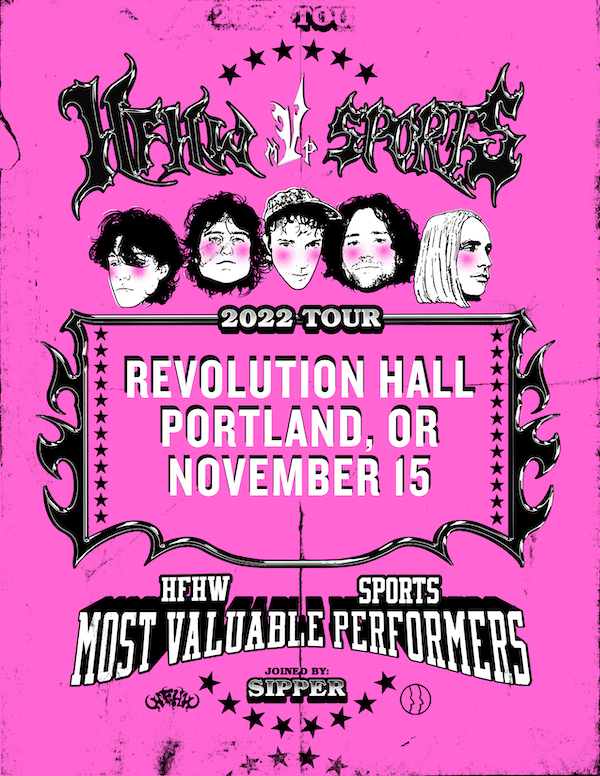 Sports / Hot Flash Heat Wave
November 15, 2022
Doors 8pm, Show 8PM | $20 | 21+ (Minors OK in Balcony)
More info: event.etix.com
Revolution Hall
1300 SE Stark St., Portland, OR
Purpose is at the cornerstone of Sports' resonance and impressive second album Get A Good Look. Childhood friends Cale Chronister and Christian Theriot have come to realize that life can change at any second. Perspectives are reshaped, relationships rise or fall, and home is anywhere you want it to be. For Sports, it's the intricacies of their lifelong friendship, the victories and shortcomings of growing up, and the lessons learned along the way that have influenced their worldview. Growing up on the outskirts of Tulsa, Oklahoma, life for Cale and Christian revolved around watching MTV and going to church. The pair first met in middle school and formed an instant connection with both seeking to break out of the conformity of their quaint small town upbringing. "We have been making and recording music under different names since we were about 13," they share. The genesis of Sports would come almost a decade later. On choosing the name Sports, Cale and Christian show reverence to their parents. "They're big sports fans. It's like we're fulfilling some childhood dream of being in the NBA."
Musically, Sports inspires images of the youthful idyll of bygone times through dulcet melodies and sun-drenched funk synths. Their elaborate, mind-expanding arrangements are warm and enveloping, creating a world where David Bowie, The Beach Boys, and The Clash collide.
Hot Flash Heat Wave
San Francisco band Hot Flash Heat Wave rose to prominence in the Bay Area music scene in 2015 with the release of their debut album Neapolitan. Their versatile sound, at times reminiscent of dreamy psychedelia, power pop, and postpunk, demonstrates a dynamic range of songwriting prowess centered around consistently infectious, sun-soaked melodies and guitar hooks.
Hot Flash Heat Wave is Adam Abildgaard, Nick Duffy, and Ted Davis. The trio hails from Davis, California, where they met in high school through a shared interest in music. Maintaining a DIY ethos instilled by their teenage roots in the Davis/ Sacramento punk scene, the group still creates most of their artwork and merchandise themselves.
Continuing their habit of self-reinvention, the band has garnered growing attention with the early 2019 release of a short-but-sweet EP, titled Mood Ring, and a selfmade music video for its leading single 'Glo Ride'. An ambitious blending of genres, the EP is a divergence from anything we've heard from the group to date, diving deep into themes of introspection and emotional turmoil while still managing a flavor that is uniquely theirs.
Sipper
Sipper is the recording project of NYC musician, Joey Beerman. Since launching in 2019, the project has mostly been known for releasing music a little too frequently. In the past year, Sipper released 4 albums and continues to put out a new song bi-weekly. For live performances, the band is made of 4 members all from the same hebrew-school graduating class.