Win Tickets ($64): Rising Appalachia @ Crystal Ballroom | Southern Roots, w/ Lily Henley
We are giving you another chance to WIN a pair of tickets to Rising Appalachia @ Crystal Ballroom on November 5. To win, comment below on this post why you'd like to attend. Winner will be drawn and emailed October 30.
———————————————
From our sponsors: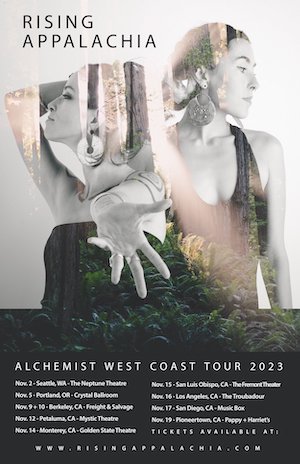 Rising Appalachia
Lily Henley
November 5, 2023
Doors 6:30PM, 8PM Show | $30-$35 ADV, $32-$40 | All Ages
More info: crystalballroompdx.com
Crystal Ballroom
1332 W Burnside St, Portland, OR 97209
As world travelers for nearly two decades, Rising Appalachia have merged multiple global music influences with their own southern roots to create the inviting new folk album, Leylines. Remarkably the band has built its legion of listeners independently — a self-made success story that has led to major festival appearances and sold-out shows at venues across the country.
Founded by sisters Leah and Chloe Smith, the band established an international fan base due to relentless touring, tireless activism, and no small degree of stubborn independence. However, for the first time, they opted to bring in a producer for the new album, teaming up with the legendary Joe Henry on the sessions. These were also their first recording sessions outside of the South. For 10 days, all six band members lived and recorded in a castle-like studio in Marin County, California, overlooking the Pacific Ocean. As a result, a sense of unity and immediacy can be heard throughout their seventh album, Leylines.
"As far as recording goes, we're open creatively, but we've often preferred elements of live recording. I mean, we're folk musicians at our core," Leah explains. "The experience of playing music together in one room, looking at each other, is the bedrock of what we do and how we've grown up with music. I think Joe very much felt that way as well. He was very clear at the beginning that he was going to encourage us to have as many element of a live recording as possible."
Although Leah and Chloe Smith consider their voices as their primary instrument, Leah also plays banjo and bodhran on the album, while Chloe plays guitar, fiddle, and banjo. They are joined on Leylines by longtime members David Brown (stand-up bass, baritone guitar) and Biko Casini (world percussion, n'goni), as well as two new members: West African musician Arouna Diarra (n'goni, talking drum) and Irish musician Duncan Wickel (fiddle, cello). The sonic textures of these two cultures are woven into Leylines, enhancing the stunning blend of folk, world, and urban music that has become Rising Appalachia's calling card.
"Our songwriting ties into those traditions as well," Chloe says. "With some of our original songs, it's a reflection of the times. We're folk singers and we consider this a folk album, so there's a lot in there. There's word of politics, of being women in the music industry, as well as a lot about our lives on the road."