Win Tickets ($50): Shannon and the Clams @ Crystal Ballroom | Retro-rock Band, Featuring Paranoyds & Roselit Bone
We are giving away a pair of tickets to Shannon and the Clams @ Crystal Ballroom on September 4. To win, comment on this post why you'd like to attend. Winner will be drawn and emailed Monday, August 30.
———————————————
From our sponsors: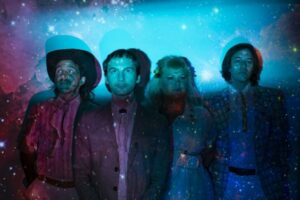 Shannon and the Clams
Paranoyds
Roselit Bone
September 4, 2021
6:30PM Doors, 8PM Show | All Ages
GA: $20 ADV, $25 Doors
21+ Balcony: $25 ADV, $30 Doors
More info: crystalballroompdx.com
Crystal Ballroom
1332 W Burnside St, Portland, OR 97209
Shannon and the Clams
"I am terrified of spiders," says Shannon Shaw. "My mom always told me that they're drawn to me. Like, they would drop down and dangle in my face as a baby, or they'd get in my bed."
But the powerhouse singer-bassist of retro-rock band Shannon & The Clams had bigger fears when she went to an astrologer two years ago. Shaw was at an emotional tipping point – willing to try anything – because everything she loved was falling apart.
"It felt like the end of an era," Shaw says, which began to unravel in 2016 with the tragic Ghost Ship warehouse fire in the Clams' DIY community in Oakland. In 2018, the California wildfires in Napa almost caused her parents to evacuate their homes. In 2019, a lurking intruder drove Shaw out of the beloved apartment she'd lived in for 14 years. And then, right as her band was getting invited on big tours with bands like Greta Van Fleet and The Black Keys, her father was diagnosed with cancer. "The idea of leaving my family was agonizing – it was torture," Shaw says.
The astrologer told her to summon Durga when she felt powerless, a Hindu goddess who holds a weapon in each of her eight arms. Shaw saw the connection. "The symbolism of the spider made a full turn in an interesting way," she says. "I was getting protection from the thing I feared the most." Plus, she says with a laugh, "Spiders destroy the bullshit bugs. Like mosquitoes. Who needs 'em?"
Year Of The Spider, the band's sixth studio album, rages against death and disease with the power of a thousand angry Ronettes. Songs like "All Of My Cryin'," "Mary, Don't Go," and "Year Of The Spider," pulse with girl-group elegance and punk ferocity. On a Clams record, you always get both.
That harsh/soft balance often comes down to Clams keyboardist Will Sprott. "Different keyboards lend themselves to different tones," Sprott says, "a Rhodes [piano] is more soft and bell-like, whereas a Wurlitzer has these chunky, abrasive bites. So when I'm deciding which instrument to play on a song, I'm thinking, what does the song make you feel? What do you want it to communicate? It's like, do you want this organ to scream at you or soothe you?"
Paranoyds
Four-piece from Los Angeles. Punk wing dong gaze porn pop cop chop proto shoes progs clogs hogs fuzzy wuzzy soaked hugs and slugs.
Roselit Bone
After several years of touring the US, Portland's Roselit Bone have perfected an infectious and powerful live show that falls somewhere between a demented Roy Orbison and an angelic Gun Club. Their anthems of loneliness, alienation, and triumph have allowed them to artfully navigate through a cluttered underground scene, captivating audiences and transfixing crowds in a nightly conversion ritual. On their newest release, Crisis Actor, they lace vignettes of systemic violence, sexual confusion, and class warfare with a wry, suicidal humor straight from the gut of America. In a review of Crisis Actor, Sean Jewell of American Standard Time writes, "Roselit Bone present a bizarrerie of song, a black mass of greased leather that oozes cool, and billows terror. Their music moves seamlessly from conjunto to cosmic country, from surf to rockabilly, transporting the listener from black forests to lonely casinos. It lives mournfully and defiantly in motels and dive bars of the mind, guided by strings, gliding on woodwinds and brass, over the heat mirage of pedal steel and electric guitars."