Win Tickets ($120): Grammy Winner Indigo Girls (with full band) & Neko Case @ Clackamas County Fairgrounds | Folk Rock, Indie Rock
We are giving away a pair of tickets to Indigo Girls (with full band) & Neko Case @ Clackamas County Fairgrounds on July 1. To win, comment below on this post why you'd like to attend. Winner will be drawn and emailed June 26.
———————————————
From our sponsors: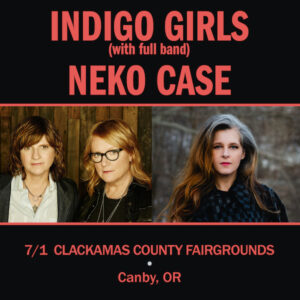 Indigo Girls (with full band) & Neko Case
July 1, 2023
Doors 5PM, show 6:30PM | $60 | All Ages
More info: event.etix.com
Clackamas County Fairgrounds
694 Ne 4th Ave., Canby, OR
Indigo Girls
Indigo Girls tell their origin story. They have reunited with their strongest backing band to date to create Look Long—a stirring and eclectic collection of songs that finds the duo of Amy Ray and Emily Saliers chronicling their personal upbringings with more specificity and focus than they have on any previous song-cycle. These eleven songs have a tender, revealing motion to them, as if they're feeding into a Super 8 film projector, illuminating a darkened living room: Saliers Ray are tackling the mechanisms of perspective. "We're fallible creatures shaped by the physics of life," says Saliers. "We're shaped by our past; what makes us who we are? And why?" In this moment of delirious upheaval, Look Long considers the tremendous potential of ordinary life and suggests the possibility that an honest survey of one's past and present, unburdened by judgement, can give shape to something new—the promise of a way forward. With the energy of an expanding, loyal audience beneath their feet, a weather eye toward refinement, and an openness to redefinition, Indigo Girls exemplify that promise.
Neko Case
Neko Case steps out, cutting the sky and singing the stars, spinning fury and mercy as she goes. She loves the world and wears her heart on her sleeve, but she might eat it before you get to thinking it belongs to you.
She's doing it on her own terms, but the legacy she's building is one that can stand up to music made by any other solo artist in her lifetime. Don't look away; you never know what might happen. "I'm just trying," she says, "to be myself as hard as I can."