Win Tickets ($70): Heaven 17 @ Crystal Ballroom | English New Wave & Synth-pop
We are giving away a pair of tickets to Heaven 17 @ Crystal Ballroom on October 5. To win, comment below on this post why you'd like to attend. Winner will be drawn and emailed September 26.
———————————————
From our sponsors: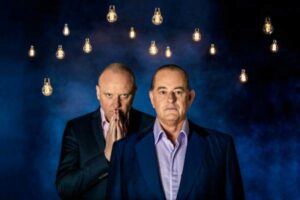 Heaven 17
October 5, 2022
6:30 pm doors, 8 pm show | 21+
GA: $30 ADV, $35 Doors
Reserved Balcony: $35 ADV, $40 Doors
More info: crystalballroompdx.com
Crystal Ballroom
1332 W Burnside St, Portland, OR 97209
Heaven 17, please remember, were not even intended to be a group. In the beginning was the British Electric Foundation, or B.E.F., for short. Born out of the collapse of the original Human League, and the brainchild of Martyn Ware, that band's leader, B.E.F. was less a record label, as a portfolio of future musical projects of which Heaven 17 would be just one. Ian Craig Marsh, co-founder of the Human League, would join Ware along with Glenn Gregory as lead vocalist the man who would have been the original Human League singer had he not been unavailable.
B.E.F. would produce the now iconic Music For Stowaways, and Music Of Quality and Distinction 1, and provided a template that subsequent artists would use from The Assembly in the Eighties, Electronic in the Nineties, and most recently, the Damon Alban and Jamie Hewlett project, Gorillaz. But its Heaven 17 which would endure and help shape the future of modern music for over thirty years. Their first album, Penthouse And Pavement, is, and remains, a modern classic.
It felt like a race to get the thing done really. There was no mediation involved. It literally was a lot of ideas coming out simultaneously but also with an intensity which meant that you could realize them very quickly. So it wasn't just like a million ideas and actually three quarters of them were shit when you looked at them on the day – they were all pretty good I have to say. It was like opening a giant tap for a hose and it was just blasting out. (Martyn Ware)
Within a week, they had written and demoed a new song, '(We Don't Need That) Fascist Groove Thang.' Listening back to a song written in late 1980, it's astonishingly prescient. The purely electronic template, the driving musical philosophy of the Human League, had been modified with the addition of funky slap-bass guitar, and treated dance-floor piano. Released as a single, it became NME's record of the week. The song managed to mention the words 'fascist', 'Hitler', 'racist' and was promptly banned from being played by the BBC. 'One of the reasons the BBC said it couldn't be played was they thought Ronald Reagan could sue them over it', said Ian Craig Marsh in 1981 about the song's most controversial couplet: 'Reagan's president elect/Fascist god in motion.'
Penthouse and Pavement is a musically schizoid slab of modern art. Side 1 fires off in the new, funky direction, whilst Side 2, the all-synth side gives a taste of what a third Human League album with Ware and Marsh on-side might have sounded – wonderful melodies and audacious arrangements with tracks such as 'Let's All Make A Bomb' and 'Song With No Name' the very best of British electronica.
A defining feature of Heaven 17 was their total artistic control over their music. Whereas the sound and the success of the Human League's Dare was very much a collaboration between the band and Martin Rushent, Heaven 17 were performers, writers and designers creating not just their own music but every aspect of the music's presentation and packaging.