Win Tickets ($60): Devendra Banhart @ Revolution Hall | Freak Folk, New Weird America, w/ Hayden Pedigo
We are giving away a pair of tickets to Devendra Banhart @ Revolution Hall on December 11. To win, comment below on this post why you'd like to attend. Winner will be drawn and emailed December 4.
———————————————
From our sponsors: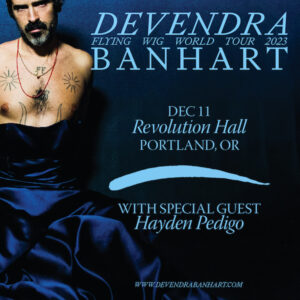 Devendra Banhart
December 11, 2023
Doors 7PM, Show 8PM | $30 | All Ages
More info: event.etix.com
Revolution Hall
1300 SE Stark St., Portland, OR
Devendra Banhart's Flying Wig, is a landscape of recurrent dualities; a can of paradoxes, a box of worms. What goes up, must come down, eventually. Battle-scarred by life and loss, Banhart found himself despondent, folded inwards; finding it difficult to speak, let alone sing.
"It's about transmuting despair into gratitude, wounds into forgiveness, grief into praise" ruminates Banhart on his eleventh studio album. Gliding through the air, the whisper of two buoyant words symbolically and at times, literally appear — "and yet…" (inspired by 'A World of Dew' by 19th century Japanese poet Kobayashi Issa) — coloring in the melancholic outlines and replacing them with a bonded optimism. "The 'and yet, and yet,'" Banhart explains, "is our ability to face despair with hope, to keep on failing and loving. My whole life has been filled with sadness. Everything I do in life is to help cope with that sadness."
Turning his back on Los Angeles' wailing sirens, he packed the bones that would become Flying Wig's songs into a bag and took to the secluded woodland of a Topanga canyon. The album is the actualisation of a precious friendship with the acclaimed solo artist, multi-instrumentalist, Mexican Summer stablemate and producer of Flying Wig, Cate Le Bon. The pair's coming together is one prophesied by the mirror-image titles of their early solo albums (Banhart's 2002 Oh Me Oh My to Le Bon's 2009 Me Oh My) and a tenderness built on crude haircuts ("we finally met, soon after she was cutting my hair with a fork and that was that") and home-made tattoos — but never previously translated into the recording studio. "She's the only person I wanted to make this record with," Banhart admits. "We set out to make a record sonically unlike anything I have made before – with a new creative partner at the helm. We definitely wanted a new sound, electronic yet organic and warm…we wanted to draw out and emphasize the emotional aspect of a synthesizer."
Stepping outside of himself to examine the unspeakable, Devendra Banhart is suddenly freer than a bird. He is as free as a wig that transcends the body, transcends the head, and makes for the clouds.