CANCELED: Cat Power – Covers Tour @ McDonald Theatre | Singer Songwriter, Indie Rock, Electric Blues
This show has been canceled.
———————————————
From our sponsors: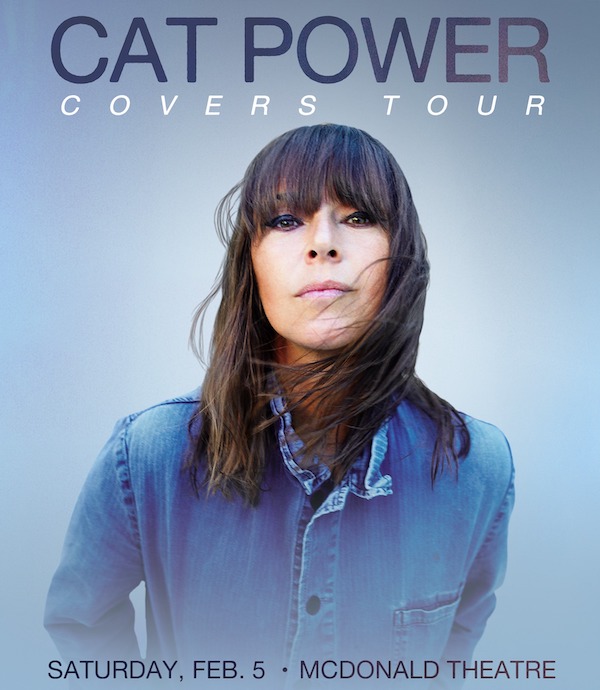 Cat Power – Covers Tour
February 5, 2022
Doors 7PM, Show 8PM | $37 | All Ages
More info: ticketswestpdx.evenue.net
McDonald Theatre
1010 Willamette Street
Eugene, OR 97401
Cat Power comes to Eugene with new music from her upcoming album, 'Covers'! Indie-rock, blues, electronics and more are blended together when this one-of-a-kind artist experiments on stage. Cat Power plays McDonald Theatre on February 5th! Don't miss it!
A one-of-a-kind artist unafraid to reveal her inner self and follow her muse in different directions, Cat Power's Chan Marshall pens literate and emotionally revealing songs and performs them with strength and fragility. Her earliest albums, such as 1996's What Would the Community Think, reflected the influence of New York's experimental rock scene. As time went on, however, the folk, blues, and soul music she was raised on made themselves known on 1998's Moon Pix and 2006's The Greatest, which featured performances by Memphis soul legends. As Marshall continued to experiment, adding electronics on 2012's Sun and releasing one of her starkest albums yet with 2018's Wanderer, she established herself as one of the 21st century's most acclaimed singer/songwriters and paved the way for like-minded artists such as Mitski, Snail Mail, and Angel Olsen.
Chan (pronounced "Shawn") Marshall was born Charlyn Marie Marshall in Atlanta, Georgia on January 21, 1972. Marshall's father was a blues musician, but her parents divorced when she was young, and she spent much of her nomadic childhood moving back and forth between her father, her mother, and her grandfather. While Marshall's parents didn't encourage her to play music early on, she wrote her first song when she was in fourth grade, and immersed herself in her stepfather's record collection, dominated by soul and classic rock. When Marshall was 16, she moved in with her father in Atlanta, and by 18 she had dropped out of high school and settled on her own. She fell in with a group of experimental indie rock musicians and began jamming with her new friends, initially for fun but eventually playing with several bands before forming a group called Cat Power. The name came from a trucker's cap emblazoned with "Cat Diesel Power" that Marshall spotted while working at a pizza joint. After streamlining it into a suitable band name, she later took Cat Power as her stage alias, and began earning a reputation on the Atlanta music scene.
COVID-19 POLICY FOR ALL MCDONALD THEATRE EVENTS: All McDonald Theatre patrons, attendees and event staff will be required to show proof of FULL vaccination before entering the venue OR proof of a negative Covid test taken within 48 hours of the time of entry into the venue.