Win Tickets ($52): Bayside @ Revolution Hall | w/ I Am The Avalanche & Koyo, Punk Rock
We are giving away a pair of tickets to Bayside @ Revolution Hall on February 20. To win, comment below on this post why you'd like to attend. Winner will be drawn and emailed February 13.
———————————————
From our sponsors: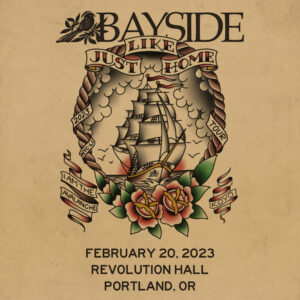 Bayside
February 20, 2023
Doors 6:30PM, Show 7:30PM | $26 | All Ages
More info: event.etix.com
Revolution Hall
1300 SE Stark St., Portland, OR
A veteran New York punk outfit with a strong melodic emo sound, Bayside rose to mainstream success in the mid-2000s with a series of records for the Victory label. After enduring a tragic 2005 van accident, the group rallied to release 2007's The Walking Wounded, kicking off a streak of increasingly successful albums including 2011's Killing Time and 2014's Cult, which, at number 24 on the Billboard 200, marked their highest chart performance to date. Along the way, the Queens-based combo expanded their sound with several acoustic releases, a live album, and a set of eclectic covers. After releasing 2019's Interrobang LP, Bayside capped off two decades together with 2020's Acoustic, Vol. 3.
Singer/guitarist Anthony Raneri formed Bayside in late 2000, taking the band's name from their local neighborhood in Queens. Raneri, bassist Andrew Elderbaum, and drummer Jason Enz recorded the band's 2001 debut EP, Long Stories Short, and began to build up their fan base through heavy touring and festival appearances. After a 2003 split EP with West Coast band Name Taken, Bayside signed with Victory Records, which issued their full-length debut, Sirens and Condolences, in January 2004. For their follow-up album, the group defied convention and, instead of using any of their own genre's go-to producers, hired Shep Goodman and Kenny Gioia, a team whose credits included Lee Ann Womack and Mandy More. Their gamble paid off when 2005's self-titled Bayside album cracked the Billboard 200 and helped usher them into the mainstream. On October 31 of that year, after a tour stop in Colorado, Bayside's van skidded off an icy patch of road in Cheyenne, Wyoming, killing then drummer John Holohan and seriously injuring bassist Nick Ghanbarian.
Raneri and lead guitarist Jack O'Shea were shaken but received only minor injuries.
After the tragedy, Bayside moved on to enlist drummer Chris Guglielmo for their third album, 2007's aptly titled The Walking Wounded. Guglielmo's arrival helped cement the consistent lineup that would carry the band through their most successful period. Improving on The Walking Wounded's already impressive chart performance, their 2008 album Shudder hit number 54 on the pop chart and was accompanied by the group's first live album, Live @ the Bayside Social Club. At the turn of the decade, Bayside was in the catbird seat, with a strong catalog behind them and a steady live presence.
I Am The Avalanche
I Am The Avalanche is a force you just can't kill. Over its decade-and-a-half existence, the Brooklyn band has routinely faced and overcome personal, professional and existential challenges. Enter DIVE, I Am The Avalanche's first album since 2014's Wolverines and a convincing new chapter in the band's hard-earned reputation. Out November 20 on I Surrender Records, DIVE confronts a crushing year for independent musicians and comes out guns blazing, wall-to-wall with anthemic post-hardcore fight songs.